By Megan Segura – July 14, 2011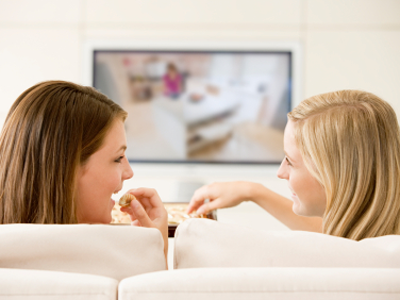 The Best Home Entertainment Alternatives
If you're a Netflix subscriber like me, then you were probably surprised to receive an email from the company this past Tuesday announcing the change in subscription plans and prices. You see, I was a lifelong Blockbuster fan (call me biased – they gave me my first job in high school), until Netflix lured me away with their super low rates.  But now that they've decided to suddenly increase their prices without citing a reason – I'll be honest – I feel a little ripped off…
Here's the Deal with Netflix
Previously, Netflix customers were able to enjoy unlimited DVDs by mail (only 1 DVD mailed out at a time) and unlimited access to their streaming movie & TV series database (via computer, mobile device and TV) for $9.99 a month. However, beginning on Sept. 1, 2011 – to get both services – you'll have to pay $15.98 a month!
There Are Plenty of Fish in The Sea
Too often, customers accept price changes without looking into their alternatives. I mean, let's be honest, who really wants to sit around all day and compare prices? Luckily for you, we've done some Fab & Fru legwork for you!
What You Get – Tons of movies and TV shows that can be enjoyed via your TV, mobile devices and computer.
Upsides – No waiting for movies to arrive in the mail (unless your high speed internet connection is down). You can cancel your subscription at any time.
Downsides – While they offer current TV episodes, you're not going to be able to see the newest released movies.  Some of your movies/shows will be interrupted by ads.
What You Get – You have the choice to rent 1, 2 or 3 movies at a time (the less movies you rent, the less you pay a month). You can exchange movies via mail or in-store exchanges.
Upsides – Blockbuster gets new releases 28 days before other movie rental services. If you have a Blockbuster store nearby, there's no waiting for the mail, and you can exchange as many time within a month as you want.
Downsides – Because they don't offer a streaming service, their rental plan is slightly pricier than Netflix's.  You also must  cancel your subscription before your monthly billing date in order not to pay for the next month.
What You Get – Watch their extensive collection of new releases through any device that hooks up to the internet. You can pay to rent a movie ($2.99+) and watch it within 24 hours of downloading it, or you can buy a movie ($12.95+) and have it stored forever to watch as often as you want.
Upsides – Instant access to new releases without waiting for the mail.
Downsides – You will have to budget out how many movies you watch a month to make sure that you're not paying way more a month than you would for a subscription-based program.
Redbox – No subscription fee
What You Get – A Redbox is a small movie vending machine that allows you to rent and return movies to any Redbox location.
Upsides – There's no subscription fee; you pay a low price ($1.00-1.50) for each movie you watch with your credit card.
Downsides – While they do have new releases, the selection is small, so you're not able to rent classic or slightly old movies. You have 24 hours to return the movie before your credit card is charged with a late fee.
What Will You Do?
Whether you're outraged by the sudden rate increase or not, in the end, you may decide to stick with Netflix for its price or convenience. The point is that you thoughtfully consider your other options. As for me, I'm going back to Blockbuster. Yes, their prices are a little higher, but I also feel less jerked around by the company – and that means a lot to me as a consumer.  –Besides, as someone who watches movies non-stop, I love being able to go to the store if I can't wait for the DVD to arrive in the mail or my internet connection is down!
What about you? Will you be sticking with Netflix, or do you have a better recommendation?
|
Print