By Megan Segura – July 27, 2011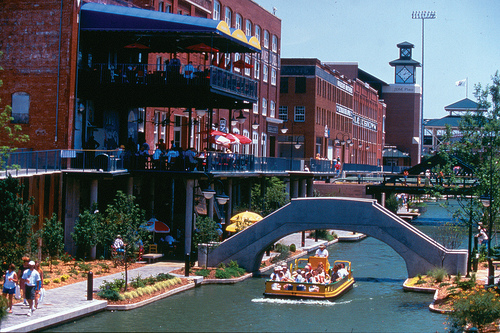 Fun & Affordable U.S. Destinations

You don't need to go the tropics to have a memorable vacation. Even on a tight budget, there are plenty of Fab & Fru travel opportunities in your own backyard. We found some spectacular U.S. cities to visit this year, and guess what? Getting there won't cost you an arm and a leg.  Whether you want to hit the trails or go out on the town, check out these unexpected hot spots that offer thrifty travelers tons to do while giving you a BIG bang for their buck!
For the Outdoor Adventurer
If you have an adventurous spirit, we have a few places that fit the bill!
Lynchburg, Virginia is packed with thrilling outdoor activities. If you're visiting during the summer, take an unguided tube, canoe, kayak, or batteau trip down the James River to cool off. See the views of Lynchburg by taking a hike through the Blackwater Creek Trail System or ride a bike through 9 miles of natural trails. The best part? Lynchburg offers the only year-round outdoor snow-sports slope in the nation! This particular destination is even more affordable during the fall when package deals and discount admissions become available at local lodging.
If Life Magazine names it one of the "100 Places To See In Your Lifetime," then you know it has to be good, which is why we recommend McCurtain County's Beavers Ben in Broken Bow, Oklahoma. Beaver's Bend State Park contains mountain lakes surrounded by national forests, log cabins and camping grounds nestled in the towering pines and clear running rivers. Not only is this state park affordable – it's FREE! Hike the miles and miles of trails through the Kiamichi Mountains or go parasailing in the Broken Bow lake. Kyaking and fishing are also available. And don't worry if you can't take time off until after summer, because Southern Living Magazine named this area one of the top three places in the South to see fall colors.

Discover a Cosmopolitan Gem

If good food and relaxation is more in line with your vacation style, then San Diego might just be calling your name. Begin planning now to save big on the San Diego Wine & Food Festival, which takes place Nov. 16-20. Named one of the "Top 100 Events" by BizBash Magazine, this get-together features 170 fine wineries, craft breweries & spirits purveyors, as well as 70 of San Diego's top fine dining restaurants and 30 gourmet food companies. This seemingly fancy town actually has some amazingly affordable finds! –Don't forget to pack some loose-fitting clothes for the trip back!
Memphis, Tennessee is known for its music and the notorious Graceland, but there is so much to do in this city – and most of it's FREE! Visit the Beale Street Walk of Fame or take one of the historic walking tours through sites like the famous Peabody hotel. At night, there's Beale Street Historic District, which is full of restaurants and clubs. There is also tons of unique shopping and delicious restaurants to choose from. Find great rates on hotels by looking outside the city – the drive into Memphis is quick and easy.
|
Print
Pages: 1 2