By Stephanie Berenbaum – July 6, 2011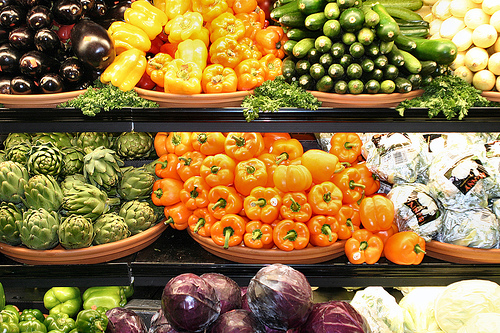 How to Save A Whole Lot of Money
The other day a friend of mine was giving me a hard time for shopping at (as she calls it) "Whole Paycheck"! She admitted she loves Whole Foods as much as I do but wished she could shop there for less.  Yet when I asked her if she used their coupons she told me "Whole Foods doesn't have coupons!" NOT TRUE! Not only does Whole Foods have coupons, they have lots of great money saving suggestions and recipes!
As you know, Fab & Fru is passionate about eating healthy on a budget and using coupons for organic, health conscious foods.  There's no point in saving money by using coupons on crappy, processed foods – the costs to your health long term are NOT worth it!  The good news is, we have successfully learned how to shop Whole Foods for less!
Before we get in to our money saving tips, here's the easiest way to save at Whole Foods this week – enter to win a $25 WHOLE FOODS GIFT CARD!  It's this week's Organic Giveaway – just LIKE us on Facebook and let us know what YOU would spend the gift card on if you win!
Here are our other tips to help you save at Whole Foods:

The Whole Deal
Whole Foods puts out a "Whole Deal" booklet – which is filled with coupons, money saving recipes and ideas.  And I mean lots of coupons – like $45 worth in the current issue.  The problem is, each store decides how prominently to display and market the Whole Deal booklet.  Many stores have it right when you walk in, but you may never have even noticed it!  So make sure to look for this money saver, and if you don't see it – ask for it!
*One other tip – In other stores, cashiers often ask if you have a coupon for a certain item that may be on sale. NOT at Whole Foods (at least not in my experience)  It's up to YOU to come prepared!
Online Coupons
If you want to prep in advance, all the Whole Foods coupons are also available online at wholefoodsmarket.com.  Just type in "coupons" in the search bar and it will take you to them!
Learn About Local Specials Online
Another great online feature – on their homepage you'll see there is a spot to type in what your local store is – and it will give you the weekly specials for YOUR store!  I like to get prepped with specials and coupons so I can maximize my savings by making meals out of combining them!  These tools also make it really easy to refine your shopping list before you ever leave the house.
The Regional Divide
We spoke with my local Los Angeles Whole Foods (many thanks to Dave at 3rd and Fairfax), various regional offices,  as well as their HQ in Austin, TX.  The one thing we learned about Whole Foods is that the company and it's operations are very decentralized — meaning each store has lots of their own deals and specials at certain times.   Get to know how your local store runs by asking questions about their produce and product schedule, etc. –This decentralized approach also affects some of their coupon policies….
|
Print
Pages: 1 2