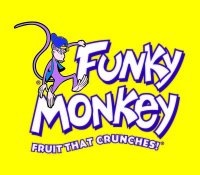 For moms with picky eaters, sneaking healthy foods into your kids' diet is not only a challenge – it's an art form.  Funky Monkey snacks just might be one of the tastiest solutions to your problem.  These all-natural freeze-dried fruit snacks have no artificial colors or preservatives, and the sweet & crunchy treats are actually good for you!
Now until  September 30th, Fab & Fru readers get 20% off ALL of Funky Monkey fruit snacks.  No need to scour the stores for these fun snacks – just order them online!
Funky Monkey is so excited about sharing their product, they're giving away SEVEN bags (one of each flavor), to one lucky Fab & Fru winner!  Flavors include Applemon, Bananamon, Carnaval Mix, JiveALime, MangOJ, Pink Pineapple, and Purple Funk.
To enter to win Funky Monkey snacks, "Like" us on Facebook and post on our wall why you want to win!
|
Print