By Brandi Savitt – August 1, 2011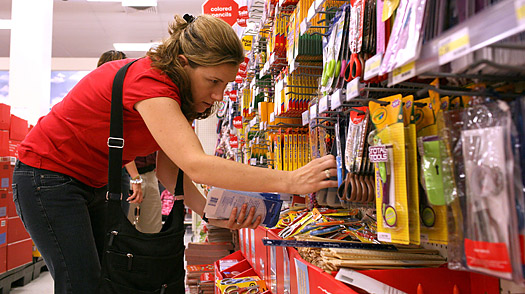 Start the Year Right By Spending Less
We may be in the heat of the summer, but it's the beginning of August, and that means the kiddies head back to school in just a couple of weeks.  From school supplies and clothes to the modern must haves, we have some Fab & Fru money-saving tips for getting your kids back-to-school in style!
Shop for Supplies at the Drugstore
Think the office supply stores and Target have the best deals on pencils, pens and notebooks this time of year?  Think again!  Lisa, a super-savvy mom from Delaware, swears that the best bargains for basic school supplies can actually be found at the drugstore.  Before stocking up on supplies, check out the sales at your local Walgreens or CVS and compare the prices to Target (or your other store of choice).  Lisa scored a box of ten pencils at Walgreens for just 19 cents, while Target offered a two for one deal for $3 bucks.  Lisa's Walgreen's find saved her $1.31 per box!
–Also, check out your local dollar store for serious supply savings, too!
Hold Off Buying Fall & Winter Clothes until Later
I remember how exciting it was to go back-to-school shopping and getting to pick a few new outfits to start the new school year off feeling good.  But the truth of the matter is, the first few weeks of school are likely to be hot, hot ,HOT.  Debbie from New York City insists that there is no need to buy new sweaters, coats and winter pants now – at full price.  Instead, shop the sales racks, and refresh your kids summer digs with a few cute items.  By making sure they have a first day of school outfit that they love (for 50% off), it will be  win-win for everyone!
Take Notes…
As you shop, take note of the fall and winter clothes that catch your kid's eye. That way you can track when things go on sale, and hit the stores when the season's fashions are more affordable (and more weather appropriate).  As the weather changes, you can surprise your little ones, or wrap up something special to give them as a holiday surprise!
Teach Your Kids to Talk on the Phone
Whether your kids are old cell phone veterans or you're getting your son or daughter their first mobile device this year, teach them to keep their texting to the bare minimum.  Cell phone companies have totally caught on that kids love to text, and that's where prices start to really go up on the family plans.  While mobile to mobile calls are typically unlimited, unlimited texting for the whole family costs significantly more (and wait until your see the costs if they go over their limit)!
Ask your kids to connect with you and their friends by picking up the phone and making a call (almost) the old fashioned way.  Not only will it help with clearer and more connected communication, it could save your family well over $30 or more each month!
How will you save money this school year?  Share with us your favorite Fab & Fru back-to-school cash saving tips!
|
Print