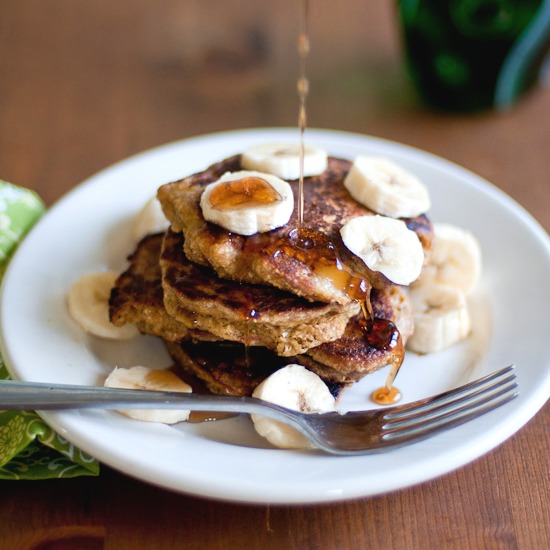 * Serves 3-4
Ingredients
3/4 cup Uncooked Millet
3/4 cup Uncooked Rolled Oats
3-4 cups of Water
3 Bananas
1/2 cup of Sesame Seeds (optional)
1 tbsp of Agave (optional)
A pinch of Sea Salt
2 tsp of Cinnamon
Sesame or Sunflower Oil
Preparation
The Grains
Start by cooking the millet in 3 cups of water, with a pinch of sea salt, over a medium flame (like you're making oatmeal).  After about 8-10 minutes, the millet should be halfway cooked.  At this point, add in your oats (they take less time to cook).  If the water seems low, add another half cup so there is enough to properly finish cooked the grains.  Add a teaspoon of cinnamon to the mixture as it continues to cook for another 6-8 minutes.  You want to make sure that the grains are tender and cooked all the way through.  The mixture should be thick and sticky- not creamy.  –If you'd like to sweeten up the mixture a bit, stir in a tbsp of Agave.
Thick Banana Syrup
In a separate skillet, heat 1/2 cup of water.  Slice the bananas into the water and cook until softened. Once the bananas are slightly cooked, smash them in the pan with a fork and mix in 1 teaspoon of cinnamon.  Allow the bananas to caramelize in the skillet.  You may need to add extra water so not to burn the mixture.  The water amount will also determine the thickness of your syrup.
Making the Cakes…
Once the millet-oat mixture is cooked, spoon the 'batter' into a heated and oiled skillet.  Flatten with a spatula to make a pancake, and then generously sprinkle sesame on the top of the pancake.  Press down again with your spatula so the seeds stick to the cake.  Brown the cakes on each side like you would a pancake.  When you flip the cakes, the sesame seeds will toast to create a delicious nutty flavor.  Plate the cakes sesame side up, generously top them with the caramelized bananas, and serve!
|
Print