By Brandi Savitt – August 18, 2011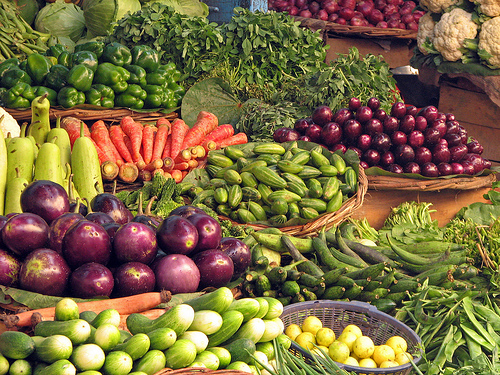 Cheap & Easy Vegan Meals
If you're interested in improving your overall health, adding an extra glow to your skin, and shedding a few extra pounds – it's time to add more veggies to your diet!  Many people think that buying endless supplies of fresh organic produce is way too expensive, but the truth is, if you're smart, eating a few meatless meals throughout the week can save you hundreds of dollars a month.
Learning to Eat & Cook More Veggie
Whether you're mildly interested in learning why nutrition matters, or if you want to dive head first into the vegan lifestyle, I highly recommend reading Kris Carr's Crazy Sexy Diet.  After battling an incurable cancer by changing her diet and her lifestyle, Kris Carr has become the queen of explaining the science and the facts of why eating a plant-based diet may be the real answer to health, happiness and longevity for us all.  A total Fab & Fru lady, Kris's fun and easy-to-read book is a fantastic and thorough resource to help you start your own exploration into food and health.
Breakfast, Lunch & Dinner All Under $20
Because I've spent the past few months studying the benefits of limiting processed foods and animal products from one's diet, I've also spent some serious time experimenting in the kitchen to come up with some super healthy & delish Fab & Fru vegan recipes for breakfast, lunch and dinner.  Here are a few vegan specialties for you to try.  And the best part – by my calculations (after stocking your kitchen with healthy oils & seasonings), the below day's worth of meals can feed up to four for under $20.  Hope you enjoy!
Breakfast (or dessert) – $4
These super healthy & yummy pancake alternatives are not only easy and inexpensive to make, they make for a power-packed breakfast or a delicious guilt-free dessert.
Lite Lunch- $6
Looking for an easy, inexpensive but hearty salad recipe? This Asian style kale and cabbage salad is SO good -and SO good for you- you'll want to make it everyday!
Dinner Time!- $6-8
This vegan stir fry is an inexpensive protein-packed meal that's so good, you won't miss meat for a second!
Are you a health conscious eater who loves things to taste amazing?  Please share with us your favorite vegan tips & recipes!
|
Print