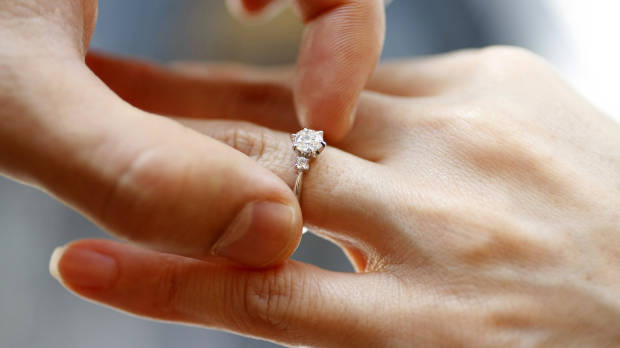 When Jon asked Elizabeth to marry him eight months ago, he got down on one knee and slipped his grandmother's 1 1/2 karat diamond and platinum ring onto Elizabeth's finger.  The happy couple immediately began to plan their Fall wedding and couldn't wait for their big day.  Except for the fact that life seemed to be getting busier and busier, Jon and Elizabeth seemed right on track.  That is until Elizabeth saw an 'I love you' text on Justin's phone from another woman…  Sick to her stomach, a tearful Elizabeth confronted her finance who soon confessed to having an affair.  Not only was he cheating, he had fallen in love.  The next day he was gone.
Elizabeth was devastated.  How could this have happened?  How could he do this to her?
A few weeks later, Jon sent Elizabeth's father a check for the money he had already spent on the wedding, and he sent Elizabeth one month's rent for leaving her to foot the bill for their apartment.  He then sent her an email asking for his grandmother's ring back…  Elizabeth and her friends were outraged.  Did Jon really expect her to return the ring that he gave her – even if it had sentimental value for he and his family?
Elizabeth refused to give the ring back, saying that he is the one who broke his promise, not her.  The ring was a gift to her and no longer belonged to Jon.  Besides, she needed the money to help pay her rent.  And with that, she took the ring to an antique jeweler and sold it on the spot!
Was Elizabeth's engagement ring hers to sell?  Should she have returned it to Jon, even though she is not the one who called off the engagement?  Does it make a difference that it was his grandmother's ring?  If your finance called off your engagement, would you give him back the ring?  Tell us what you think!
|
Print