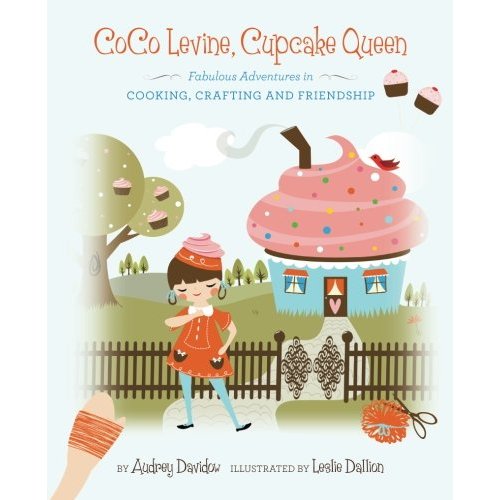 We all know that cooking with your kids is one of the most Fab & Fru activities out there -  Besides being a huge money saver, it's fun and you can, of course, make treats with organic and natural ingredients, instead of giving them a lot of chemical-laden ick!
Which is why Fab & Fru is so excited to tell you about a brand new book we adore: CoCo Levine, Cupcake Queen: Fabulous Adventures in Cooking, Crafting & Friendship is hot off the press and available on Amazon. And it's not just for girls – I have two little boys who just adore Coco's icky best friend, Larry Contrary, not to mention his recipe for Pickled Frogs!
To celebrate this book launch -and the Fab & Fru-ness of cooking with your kids – we have a fantastic giveaway this week -  A signed copy of CoCo Levine – personally inscribed to your little one from the author, Audrey Davidow, along with a Mini Cupcake Pop Mold, so you can make one of our favorite recipes in the book, CoCo's Cupcake Lolipops!
To enter to win the book and cupcake pop mold giveaway, just let us know what your favorite memory of cooking as a kid is!
And while we're on the subject of sweet treats, here are some more organic and natural coupons and deals we found:
From Simply Organic, a variety of printable coupons for their baking mixes, spices and extracts – good for 50 cents or $1.00 off, depending on the product.
From Newman's Own Organics, 50 cents off one organic chocolate bar, and 75 cents off a pack of their delish organic licorice twists.
From Rudi's Organic Bakery, $1 off a loaf of their organic bread – great for French Toast.
From French Meadow Bakery, $1 off one gluten-free bakery item.
From Whole Foods:
-$1 off any one Organic Valley 1lb Butter
-$1.50 of any TWO Nature's Path Organic Toaster Pastries or Granola Bars
-$1.00 off any one MaraNatha Nut Butter
-$1.00 off any one Earth Balance Creamy or Crunchy Peanut Butter or Creamy Almond Butter
-$1 off a 6-pack of ClifKids Organic ZBars or ZFruit Ropes
-$1 off when you purchase a box of Back to Nature cookies AND Back To Nature Crackers
SWEET!
|
Print