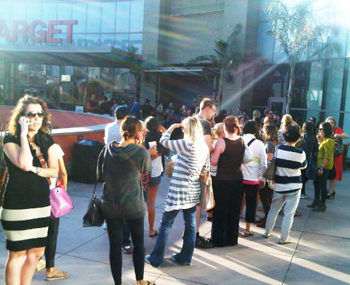 It's been such a hectic week we figured it'd be helpful to do a little recap of this week's most eye-catching money related stories.  Think of this as our "Cocktail Party Round-Up," because we're about to provide you with a little cheat sheet to help you engage in witty conversation at all your soirees this weekend! Seriously, if the topic of the "Rogue Trader" comes up, you need to know that they are not talking about the Ewan McGregor movie from the '90s.
- Netflix is suffering a huge loss of subscribers since their price hike – 600,ooo left last month, and their stock price is down.
- Missoni for Target sells out in minutes and crashes Target website. A friend of ours in Texas even claims she saw a group of women clawing their way through Missoni boxes while the Target staff unpacked them at 8:00 AM.
- A "Rogue Trader" at UBS (Union Bank Of Switzerland) loses $2 Billion. According to CNBC, it was a series of smaller trades that resulted in this enormous loss.  See, little expenses do add up.
- New study finds an increase in college grads filing for bankruptcy. College grads actually comprise the fastest growing group of consumers filing for bankruptcy in the past 5 years.  Maybe they should offer a course in how to pay off your loans in a bad economy?
- According to the Census Bureau, 15.1% of Americans were living in poverty as of last year – that's 46.2 million of us, or 1 in 6 – any way you slice it, it's shocking.
- In a move to stem major losses, the postal service announced plans to cut costs, including closing half of their distribution facilities and trimming their workforce by 35,000.  The say the cuts will now mean first class mail will take two to three days to arrive rather than one to three.  Though I am still wondering why Chicago to L.A. seems to take a week…
Please feel free to add to our list of highlights with your own personal choices from the week in finance!
|
Print