By Megan Segura – September 7, 2011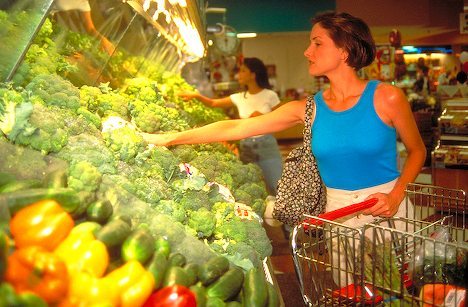 Why Multiple Trips to the Store Add Up
I've always romanticized the idea of Julia Child strolling through a Parisian market to buy her freshly caught fish and newly harvested veggies for that night's meal.  What could be tastier and more economical than shopping as needed?  The problem – most of us can't shop -or cook- like Julia…
The Forgetful Shopper
In my reality, if there's one thing I desperately hate in life, it's grocery shopping.  There's the harsh florescent lights,  the long checkout lines, and the inevitable (yet always shocking) total tally that meets me at the cash register.  If that weren't bad enough, I am also married to a forgetful shopper!
Me: "Did you get the milk?"
Him: "I forgot."
Me:  "Where are the eggs…?"
Him: "Crap.  I'm sorry babe."
No matter how long or short the grocery list is, my poor hubby always seem to come back with one or two items missing. This results in multiple – up to 3 or 4 – trips to the grocery store a week! Turns out these constant trips to the store really do add up and cost us more in the end.
The Cost of Making Extra Grocery Store Visits
I recently read that each trip to the grocery store results in at least an extra $5 spent than originally planned, and I can definitely see why!  As hard as I try to stick to my grocery list, something else always seems to catch my eye – whether it's a new product or a deal that sounds too good to walk away from (I suppose this is why you should never shop hungry).  The result: if you're making 3-4 trips to the market a week, that means you could be spending upwards of an extra $20 each week – that's $80 extra bucks a month and an extra $960 a year!
In addition, that extra $5 doesn't include the gas mileage you rack up going back and forth for those forgotten items.  Not to mention the added stress when you discover that you need to go back to the store.  When your patience runs thin, you are less inclined to look for a coupon to use on that much needed item…
Buy in Bulk
Even if you're not a forgetful person, it's best to reduce the amount of shopping trips you make. Start monitoring what it is you're buying every week.  Is it something that can be bought in bulk? It doesn't make sense to get a small jar of peanut butter if you know it runs out every two weeks like clockwork…
How to Purchase Perishables
You should also look at what items you are constantly throwing away before you've had a chance to finish them. Is bread getting moldy before you've even eaten a slice? Try keeping it in the refrigerator for a longer shelf life. You can even buy several loafs at a time if you see a good deal, and keep the extra loaves in the freezer.
If you are continually throwing out rotten fruits & veggies, try planning your meals and snacks according to the shelf life of your produce.  Also, consider stocking your freezer with frozen fresh organic veggies like corn, peas, spinach and broccoli.  That way you'll always be ready to make a last minute casserole, soup, or pasta primavera in a pinch!
Take the Time to Plan
By doing a little extra research on what your family is buying each week, you can save A LOT of time, energy and best of all – money.  You'll be amazed how just a little observation and a well planned grocery list could save you thousands of dollars in groceries a year!

Are you a forgetful shopper? What item are you constantly going back to the store to get?

|
Print