By Brandi Savitt – September 19, 2011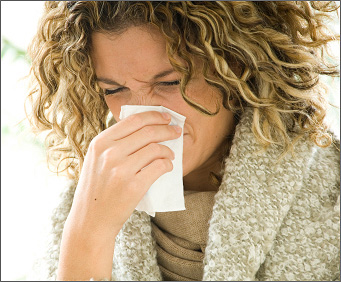 Stay Healthy Naturally
It's no secret that disease is BIG business.  From big pharma companies to giant insurance companies, it's arguable that as much as modern medicine saves lives, it's much more profitable to keep people sick.  Our regular doctors no longer teach us about nutrition and preventative medicine, and it seems visits to the doctor are largely used to treat a problem rather than to stop it from happening in the first place.
Don't get me wrong; there is no more noble of a profession than that of a doctor or healthcare provider.  The thing is, doctors help us when we're sick, but it's up to us to try and stay healthy.  So, as temperatures drop, allergies peak, and the kids are back in school bringing home every germ known to man, here are some Fab & Fru ways to boost your immune system, so you can stay healthy and avoid the doctor this season all together.  And yes, one of the tips does involve a prescription of daily red wine! 
Understanding Inflammation
According to Dr. Mark Hyman, inflammation in our bodies is at the root of all disease.  From seasonal allergies to cancer, thyroid disease and diabetes; the food, beverages, and even medications we consume have a direct impact on the inflammation in our bodies.  "If your immune system and your ability to balance the inflammatory forces in your body are impaired, watch out!
What Causes Inflammation?
Doctor Hyman explains that inflammation and immune imbalances are at the root of most modern diseases, and the question is how do we find the causes and get the body back in balance? Thankfully the list of things that cause inflammation is relatively short:
Poor diet: mostly sugar, refined flours, processed food and inflammatory fats such as trans and saturated fats
Lack of exercise
Stress
Hidden or chronic infections with viruses, bacteria, yeasts or parasites
Hidden allergens from food or the environment
Toxins such as mercury and pesticides
Mold toxins and allergens
Anti-Inflammatory Food Pyramid
Dr. Weil suggests choosing foods based on his own version of the food pyramid. Here are the foods and daily serving suggestions on the Anti-Inflammatory Food Pyramid:
Vegetables – 4-5 servings a day
Fruits – 3-4 servings a day
Whole and cracked grains – 3-5 servings a day
Pasta – 2-3 servings a week
Beans and Legumes – 1-2 servings a day
Health Fats – 5-7 servings a day
Fish and Seafood – 2-6 servings a week
Whole Soy Foods – 1-2 servings a day
Cooked Asian Mushrooms – Unlimited servings
Other sources of protein – 1-2 servings a week
Healthy Herbs and Spices – Unlimited servings
Tea – 2-4 cups a day
Supplements – Daily
Red Wine (Optional) – 1-2 glasses a day
Healthy Sweets – Sparingly
I'm all for any diet that suggests a daily dose of Red Wine…not to mention spending less money on cold and flu medication and doctor's visits!
What Fab & Fru things do you do to keep your immune system healthy and strong?
|
Print