By Stephanie Berenbaum – September 28, 2011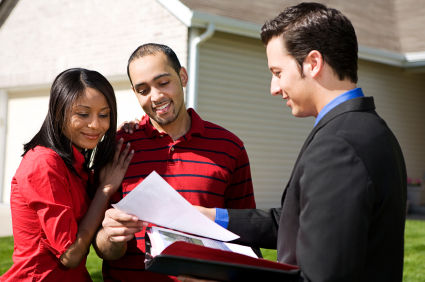 Planning to Persevere
Buying a short sale or foreclosure can be a little like playing Russian roulette.  But if you're like our Fab & Fru friend Mel and are  prepared to stick out a lot of  surprise twists and turns, you may just end up owning your dream house at a price you can afford. Here's how Mel did it!
The Hunt for a Home
Mel's house hunt began in 2005-06, at the height of the market in Los Angeles. Despite the sky-high prices, she and her husband bid on several houses, all of which had problems – and all of which they were stretching to afford.  Not exactly a great combination to feel like you are over-reaching for something you're not even that psyched about, right? They lost every house they bid on to another buyer (blessing in disguise?) and ended up renting for 5 more years…
Love At First Sight
Fast forward to 2011.  Mel and hubby relaunch their search efforts – and of course quite a bit had changed.  The economy was now in the dumps and it was a buyers market.  The first day she went looking, she fell in love with a house that was closer to their jobs, their children's school, and had just been REDUCED in price!  Things seemed to be falling into place, until….
Short Sale
The selling agent told Mel that her dream house was a "short sale".  Like many of us, she didn't exactly know what that meant, but quickly learned that short sale is basically when a home is in pre-forclosure (the bank has gotten involved because the seller is way behind on their mortgage payments).  All of which added up to the fact that short sales can take a long time to close – if they close at all.
Dream House
Mel could have walked away right then and there, and many people do when they hear "short sale" because they don't want to deal with the hassle.  But she had finally found a house that she loved – at the right price.  She was willing to risk it, and forged ahead to make her dream house a reality.
In the Meantime…
Life for Mel, her husband and their two kids turned into an endless waiting game.  They ended up having to leave the rental they had been living in, and move to a pricey two bedroom, month-to-month rental.  They had no idea when (or IF) the short sale would go through, and they didn't want to be stuck paying out a lease and having to make mortgage payments too.  Sound stressful? It was.
|
Print
Pages: 1 2