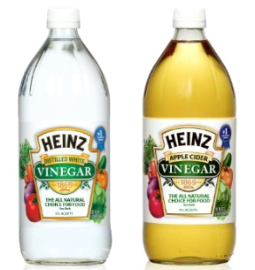 Ok, so humble, old vinegar might take a backseat to some racier products in your kitchen.  And it 's understandable – it certainly doesn't have the star quality of Kim Chee, Proscuitto or French Chevretine goat cheese.  But this behind-the-scenes player should get an Oscar for usefulness, versatility and frugality.  Not to mention it was eco-friendly before it was cool to be eco-friendly!
So, why all the attention to vinegar this week? Well, we happened to notice a couple coupons available right now for vinegar, and it reminded us of all the great uses for this Fab & Fru Favorite…
Whole Foods has a coupon for $1.00 off a 64 ounce jug of their Distilled White Vinegar.  And Heinz is also offering a coupon for 50 cents off a bottle on their website! 
As many of you know, vinegar has a a million uses for both cooking and cleaning – here are some of our favorite ideas:
Buttermilk – Who knew? Often I will have a recipe that calls for some buttermilk, but it's something I never – ever – keep on hand.  Apparently, if you add a tablespoon of white vinegar to a cup of regular milk…voila – buttermilk!
Recipe Corrector – Another one I didn't know about – according to the Heinz website, if you have a recipe that you accidentally made too salty or too sweet, they suggest tossing in a dash of vinegar – it often corrects the dish enough to save it!
Quick Pickled Veggies – I know it's not everyone's favorite, but I could just about LIVE on pickled vegatables. I love them and am often caught eating them for breakfast with coffee.  Sounds gross, but it's an acquired taste. Anyhoo, I have never actually thought to make them myself, and always buying them prepared is a pricey proposition!  But Whole Foods suggests just quick pickling veggies such as carrots, radishes, beets peppers and onions in white vinegar and it will not only save you money but extend the life of your veggies for a few weeks!
Deodorizer – I cannot stand those spray room deodorizers – they always seem to leave a weird film on things and not really get rid of odors.  My favorite solution?  Just boil little vinegar and water on the stove – zaps odors out of the air with no weird floral scent left behind!  You can also just leave a little bowl of it the counter while you are cooking and it will help freshen as you go.
Kid's Science Experiment – Apparently you can turn a chicken bone into …. Rubber?  Haven't tried this one yet but it's on my to do list with the boys for this weekend.  A great way to turn scraps from dinner into an activity!
Windows and Mirrors – My grandmother swore by this, and so do I – clean mirrors with vinegar – the key is to use crumpled up newspaper instead of paper towels!  Yet another good reason to keep getting at least the weekend newspaper – though I fear it will soon be a thing of the past.
Stickers and Decals meet their match – My house is covered with remnants of old Spiderman and Sponge Bob stickers that my kids have left behind.  Frankly, I don't think they are adding much to the overall ambiance of my home.  Did you know that vinegar is good dee-gooifier – try this first before spending money on "goo-be-gone" products!
We know there are a million other uses for vinegar — what are some of your Fab & Fru Favorites? 
|
Print