By Megan Segura – September 12, 2011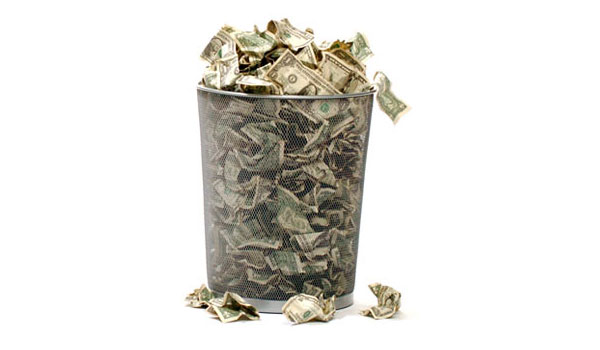 Bad Spending Habits
While there are many purchases I look back on and still believe were good investments, there are probably twice as many things I wish I hadn't wasted my money on. Even worse are the daily purchases I spend my money on without realizing how fast it is adding up. Below I've listed some pretty common money traps, as well as the cost-effective ways to fix them.
The Power of a Great Deal
It has been reported that Americans will spend $2.66 billion on daily internet deals, like the ones found at Groupon. Sometimes these deals can be beneficial and allow people to experience restaurants, activities and trips they wouldn't otherwise be able to afford. Other times, the deals simply go unused – actually about 20% of deals bought! While we have a solution to the problem of usused deals, the point is to not let the pressure of a limited-time deal get you to spend unnecessarily.
Take your time when it comes to these deals. Look at when the deal expires before you click "Buy." If the deal will still be available for purchase at the end of the day, then take your time to comb through the fine details. You may discover that the deal does not work for your schedule or meet your expectations.
Losing Money Faster Than You're Losing Weight?
When it comes to working out, some people find motivation in money. If they know they are paying a pretty penny for a gym membership, they will make it a point to go a few times a week. For others, this way of thinking doesn't quite work, and they end up spending thousands of dollars on a membership they don't even use.
Be honest with yourself! The rule when cleaning out your clothes is if you haven't worn it in a year, get rid of it.  If you haven't gone to your gym in a few months, toss that membership!  Try a cost-effective alternative, instead. Tracy Anderson is a celebrity trainer who has a number of DVDs available for purchase. This is a better option for some people, because the workouts are challenging and effective, and they can be performed inside your own home. Do you spend money on cable? Look for your Exercise On Demand channel. They have tons of free workouts from a variety of trainers, including Jillian Michaels.
Drinking Up Your Paycheck
I think a lot of my wasted money comes from a lack of preparation. When I go out for the day, I stop a number of times to buy bottled water and small snacks. I am trying desperately to change this and now I carry around a Bobble water bottle wherever I go, along with granola bars so I don't let my blood sugar get too low.
|
Print
Pages: 1 2