By Stephanie Berenbaum – Updated September 18, 2013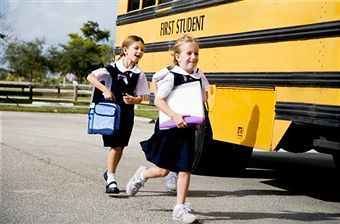 Taking Your Kids Out of Private School
In today's world, choosing to live in a city often means your kids won't have access to a good public school education nearby.  And for the LA moms I know, the cost of private school is a constant topic of conversation.  In fact, last week a few of us were sitting around talking with our friend Kim about her decision to (gasp) transfer her children out of private school and into their neighborhood public school.  As Kim put it, she is giving up on the dream of her kids having the same  "upper middle class" urban childhood that she had…
Kim isn't alone.  A lot of our friends empathized – they, too, felt they had failed at recreating what they had growing up – namely a privileged life of private schools, gracious homes, and prestigious colleges.  So why does it seem so impossible to recreate the "good life" for our own kids?  Is the cost of living really so much more than it was when were kids?
The Price Of Private School
In Los Angeles, the cost of kindergarten at a private school is roughly $17 to $25,ooo  per year – per child.  Costs go north from there as the kids get older, but for the sake of argument let's just say it's about  $20,000 per child.  Let's say for the average two kid family, that is $40,000 in tuition per year right off the bat. Plus, each family is also expected to donate additional funds to the school, and of course pay for your child's other extra activities.  All this can easily come to about $50,000 for two kids under age six!
To put this in perspective, the median household income in the US is about the same – $49,000 per year. Shocking, right?  Are all of these parents doing that well in this economy?
Save Now, Splurge Later?
Kim is wondering if it might work for her to send her kids to public elementary school and then transfer them to private for middle and upper.  The tuition cost savings for elementary school would be significant: a whopping $300,000!  A no brainer, right?  The problem is, if she pulls them out of the private school system now,  will they be able to successfully get into an uber-competitive  private school later?  There is no guarantee if they leave…  How are all these other families able to swing it?
Family Money
Although many of her friends are quite successful, after talking to them in depth, Kim realized a large percentage of them were actually being supplemented by their families in some way.  Either grandparents were helping with tuition, or they had trust funds or some other form of "family money" to help pay for private school.  And to be honest, when she thought about it,  Kim herself wasn't really sure what had gone on in her household growing up – money was rarely discussed. For all she knew her grandparents had been helping out with her tuition too – the subject just never came up.
|
Print
Pages: 1 2