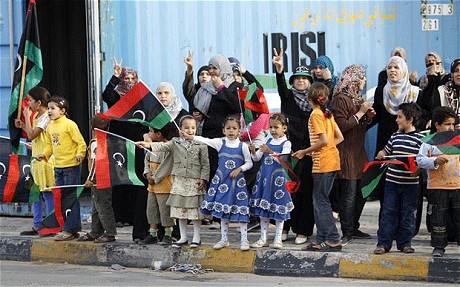 The Liberation of Libya: Hope Floats
Here's our run-down of the top money related stories from the past week: The Fab & Fru Week in Review!
Gaddafi Is Dead

Among the many ramifications of the Libyan leader's death, some of the most crucial will be financial.  Libya is a major player when it comes to high quality light, sweet crude oil – the kind we like here in America… When production ramps up again what will it mean for oil prices — and for Libya's future?  Let's hope that the transitional government's claim of wanting to use oil revenues to rebuild the country actually comes to fruition.  In addition, now that Gaddafi is gone, the U.S. will be releasing back to Libya $37 billion in frozen accounts.
Sarkozy Misses Daughter's Birth Due To Debt Crisis
According to the reports we read, French President Sarkozy left wife Carla Bruni's side to go to Germany for urgent talks on the European Debt Crisis – and missed the birth of their daughter, Giulia.  He better have come back from Germany with SOME push present. Mon Dieu!
Less Than 1 in 4 Americans Trusts Our Financial System
According to a new study, only 23% of Amercans have faith in our financial system – meaning banks, mutual funds, stock market and large corporations.  Are we the only ones who actually think this was a higher number than we would have expected?
McDonalds is Gobbling Up Revenues
See, American corporations are booming – The Golden Arches reported a higher than expected 3rd quarter profit.  Perfectly positioned to both expand into emerging markets and take advantage of the recession and Americans' need for low cost food – not to mention our ever expanding waistlines – the execs at McDonald's are "lovin' it."
Woman Racks Up $200,000 Cell Phone Bill
A woman in Florida was understandably in shock when she received a bill for $201,005.44 from T-Mobile.  Although she thought the bill was a mistake, the company told her it was not. One of her brothers, who is on her cell phone plan, took his phone to Canada and forgot to turn off his data roaming.  Although they were not forced to, T-Mobile reduced the bill to $2,500 given the "extraordinary" situation.
How are you liking the new Fab & Fru Week in Review feature? Let us know by filling out our short survey here. You could even win a $50 gift card to Whole Foods just for filling it out!  Find out how by clicking on our Find or OCC ads to the right.  Many thanks and have a Fabulous weekend!
|
Print