By Megan Segura – October 3, 2011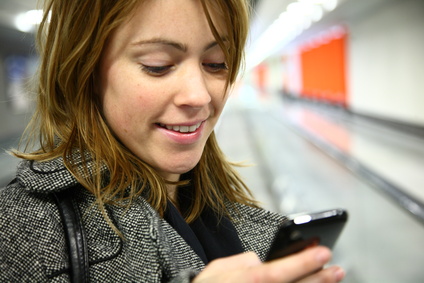 Saving Without Sacrificing
I'm in the process of saving up for a trip with some of my friends for next summer, and I've been trying to figure out some new ways to squeeze my budget for extra cash.  As if that's not frustrating enough, hearing the same old budgeting tips really gets under my skin.  I don't care how many times I hear it, I will NEVER give up my cable package – I love Dexter and True Blood  way too much…  So, in my effort to save cash and my favorite shows, I turned to modern technology for my salvation.  And the best part – I won't be eating leftovers every night, either!
Your Phone is a Money-Saving Machine
I am one of those people who owns a smart phone, but really only uses it for three things: texting, email and Tetris. Through savings expert Andrea Woroch, I learned there are quite a few valuable apps hiding out inside your phone that can save you BIG.
Loopt – For the iPhone and Android
If you are a Groupon gal, then this app is for you! Loopt lets your friends and you share the different places you go throughout the day. If you happen to be near one of your Loopt or Facebook friends, this app will let you know.  Loopt will also alert you to Groupon deals in the area, so if you walk past a restaurant that is having a $20 worth of food for $10 deal, you will be alerted to it as you walk by. Pretty cool, huh?
Clipping coupons just isn't cute – but it is necessary if you want your savings to add up.  This is why iCircular lets you access Sunday circular coupons from your phone.  No clipping necessary, since you can take your digital coupon up to a register to be scanned.
RedLaser – For the iPhone and Android
There's nothing worse than buying an item at one store only to find it being sold for much less right down the street. RedLaser helps to keep this annoying problem in check.  See a sweater you love? Scan the barcode with the app, and it will tell you all the other stores in the area that are selling it, as well as their price. And if you want to avoid the hassle of going to another store, try showing the manager the other store's price. Oftentimes, this is enough to get him or her to lower it for you on the spot!
Gas Buddy – For the iPhone, Android, Windows and Blackberry
I have a couple of friends who will drive for miles looking for the lowest gas prices.  I've personally never understood this mindset, considering you're wasting the very gas you're looking to save on in the process…  However,  Gas Buddy does the gas guzzling leg work for you by tracking all gas station prices in your vicinity.  All you have to do is enter your location, and the app will tell you which station nearby has the best price.
Twitter is Your Frugal Friend
Although it is an insanely popular form of communicating, I still know people who are hesitant to get on the Twitter train. I think the excuse I hear most often is, "I don't understand the point of it." Well, I can tell you it's a great way to save money.   At Fab & Fru, we follow lots of great money-saving mavens, like @CheapSally, @BargainBabe and @Cheapism –just to name a few.  By following these types of bloggers, you're given even more access to great deals.
I've also found Twitter's search box to be a excellent tool.  For instance, if I'm about to make a run to Whole Foods, I will type "Whole Foods" into the search box.  If there's a deal going on, I will instantly see a few hundred tweets about it.  The other day I was about to order a pizza, so I typed in a few popular chains into the search box, and I saw that people were tweeting the code for a fantastic pizza deal.  Five seconds was all it took for me to save $5 that night!
What's your favorite new-age way to save money?
|
Print