By Megan Segura – October 17, 2011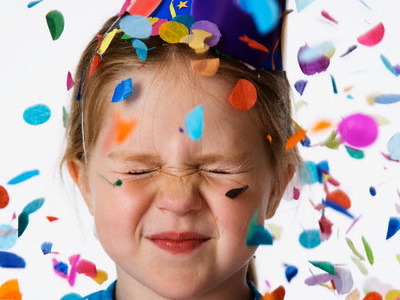 Birthdays Without Big Bucks
While I no longer get particularly excited for my own birthday, I still remember how much I used to love that day.  Even though it usually coincided with our winter family vacations, my parents made a point to make me feel special by throwing a small party wherever we were.  But as any parent can tell you, many of today's kids' parties come with adult price tags!
So – if the economy has thrown a dent in your party planning budget – don't fret!   You can still throw a superbly fun birthday bash without spending a small fortune.  Remember — The size of your party budget does not represent the amount of love you have for your child, or how much fun all the kids will have.  The key is to get creative – here are some of our fave ideas and sites to help you plan…
Get the Guest of Honor Involved
Evites may be cheap and easy, but I miss the personal touch only a physical invitation can bring. Why not get your birthday boy or girl involved by having them create the invitations?  Fold a piece of construction paper, and let your child decorate the outside. Add the What, When, Where and Why inside, and you're done! Just make sure you start this process a couple of weeks ahead of the actual date you want to send invites by, so your child doesn't have to spend hours at a time on the project.
Pick A Theme
Parties are easier to organize once a theme has been chosen. From there, you can base the rest of your choices on that one central decorating scheme. Your child should be able to provide some great ideas, and Hostess With the Mostess is always full of creative party themes, but don't let the site intimidate you – no one expects you to be THAT crafty…  For fun, affordable and retro party ideas, also check out these Fab & Fru kid party tips.
Make a Homemade Cake
Aside from the invitations, the birthday cake is a great place to flex your domestic muscle. Try looking at Family Fun for cake ideas. They also come with detailed instructions, so the final product actually looks like the picture they show.
Choosing A Venue
Frugal Confessions created a handy chart that lists venues by their price per child. This is a great tool if you're looking to go outside your home for the birthday party celebration.  Remember, though, staying home can be just as fun if you organize time and events so that the kids are constantly doing something fun.
Party Favors
If you want to send kids home with something sweet, try looking at bulk candy sites like Candy.com. You're able to buy large amounts of candy for less (they're great for Halloween, too), and since most do not come individually packaged, you can wrap the candy in cellophane or a small box that matches the theme of your party.
Make the Day About Your Kid
While it's important to set a good example for your child and make all of your guests feel welcome, the day should really center on the birthday boy or girl.  Throwing a party that impresses the other adults won't ever be as important as the sweet memories you're creating for your little one.
What is the most memorable kid party you little one has been to lately?
|
Print