by Stephanie Berenbaum – November 30, 2011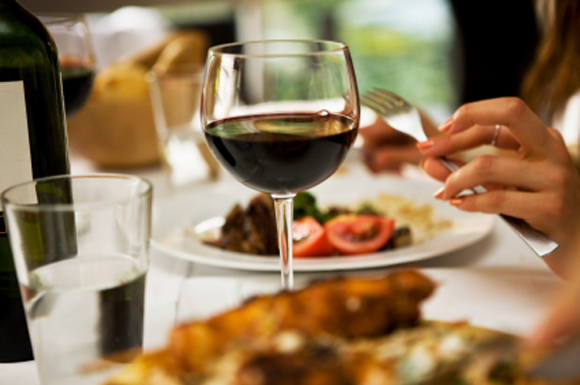 Throw a Dinner Party on a Dime
Want to throw an upscale holiday dinner party without the price tag?  Has your office party been canceled this year because funds have been cut?  Don't let the bad economy put a damper on your social sparkle – throw a Posh Potuck instead! Your next elegant evening could be as near as your very own cupboard.  We love the very Fab & Fru idea of hosting a Posh Potluck anytime of year, but the holidays couldn't be a better time to celebrate in style. 'Posh' and 'potluck' are not two words which we generally associate with one another.  But, put the two together, and you get an incredibly chic evening — at a bargain basement price!
In fact, Brandi and I just threw a Posh Potluck a few weeks ago at my home in LA.  Here's how we did it!
Use What You've Got
Like so many of you, I sometimes forget I have all the makings of an elegant dinner party just waiting to happen!  I mean, who doesn't have some hidden treasures lurking around, just dying for a chance to be seen again?  I am always looking for an excuse to show off the fabulous cocktail dresses that I inherited from my grandmother, and the bling-festooned jewelry that I never get to wear.  And then there's the loads and loads of wedding china which rarely sees the light of day…
So –  if the burden of shouldering all the costs (& the work) of a chic dinner party sounds overwhelming, a posh potluck is just what you need to put elegance well within your reach!
Chicken Wings and Waterford?
All a Posh Potluck involves is having your friends each bring a dish like they would for a normal potluck, but instead of sitting around in your grubby jeans and eating off of paper plates…use all the fancy stuff what you've got!  –Meaning: so what if you're just eating neighbor Nicki's famous mac and cheese?  If you're eating it off china and drinking Two Buck Chuck out of crystal, it's bound to improve your mood, don't you think?
The Invitations
Don't just send out a boring email to invite your guests.  Invite them formally!  Paperless Post is a virtual paper invitation that gives your guests the feel of opening a formal invite with wasting paper or spending a small fortune on stamps.  The first 25 invites are free, and after that it's just 5 bucks to send out another 30.  Besides intriguing your guests, an invitation will also help you organize who's bringing what to the party!
What's for Dinner?
As the host, you don't have to do EVERYTHING by yourself to throw a successful and enjoyable party.  However, you need to organize, delegate and set the mood for the evening.  When assigning courses for people to bring – be strategic.  Besides dusting off the china and creating a formal dining setting, the host should be in charge of cocktails, appetizers and the salad.  Assign main courses, sides and dessert to your guests.  If you have some seriously kitchen challenged guests on your list, ask them to bring a bottle or two of wine instead.
Prep for Your Posh Nosh
From the clothes to the table settings – it's the pomp and circumstance that will define the night.  But don't rush out to buy anything.  Turn what you already have into a night to remember.  Just looking through my own closets and cabinets I uncovered:
One beaded cocktail dress of my grandmothers that I have been dying to have an excuse to wear. (Men, pull out that fancy suit!)
One pair of gold, 4 inch heels i haven't worn since my wedding 7 years ago
A huge opal ring I look at lovingly in the case but never take out
Full place settings of china, crystal and silver – everything from dishes to ice buckets and pickle forks..
Linen napkins & tablecloths
A crumb scraper (like they use in fancy restaurants)
Silver candlesticks
Wine decanters
Wedgwood wine coasters
A few demoralized crystal bowls sitting in my storage shed
Put them all together, turn on some swing music, put on some make-up, and you've got a black tie affair that won't put you in the red!
|
Print
Pages: 1 2