Cute As A Button…Earrings!
Looking for an inexpensive – yet tres chic – gift for all the women in your family this holiday season?  Well, you've come to the right place!
We couldn't help but notice that each time we saw our friend Carly, she was wearing the most unique earrings.  I kept wondering where she got them – I assumed maybe a vintage store or an Etsy boutique.  When I finally asked her, I was delighted to hear she had actually made them HERSELF – out of BUTTONS!
D.I.Y. to Die For
Believe me, I'm not the craftiest person out there, but even for the D.I.Y challenged, these earrings are so easy – and fun – to make, you'll be amazed.  Plus, if you're visiting family this Thanksgiving weekend and looking for an activity to do other than sit around and eat leftover pie, you might just get a bunch of your holiday gifts made!
Here's all you need to do to make Carly's Fabulous – & Frugal – Button Earrings: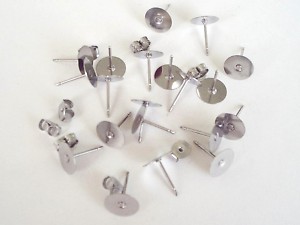 Supplies:
Cool Buttons
A Bag of Earrings with Posts
Nail Polish Glue
1-2-3-4
At a craft store, get a bag of earrings with posts
Take a pair of buttons, whether they are lying around the house, specific to a certain outfit, or something that you just picked up at the store, and figure out which side you want to be the front of the earring.
Using nail polish glue, put a small dab on the flat part of the earring post, and press on button.
Let dry for a few hours so as not to get any glue on yourself or your ear, and then they are ready to wear (or wrap)!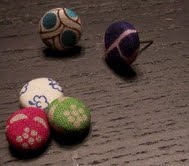 According to Carly, "These are great because you can make earrings to wear with any outfit, and they are a very inexpensive yet creative way to be unique! They are also fabulous to give out as gifts with the holiday season coming up, and you can make several pairs at once. The posts are only a few dollars for a bag of 50-100 pairs, and the earrings can be as expensive or inexpensive as you would like."
Thank you Carly Cameron for the very fabulous – and frugal – holiday gift idea!
|
Print