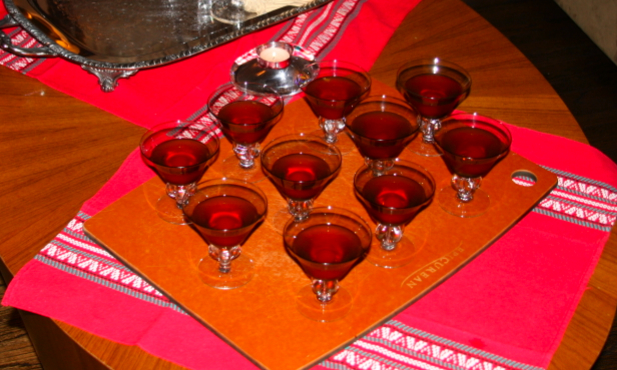 Having a dinner party?  Greet your guests with an old school cocktail that will knock their socks off (literally).  This recipe makes 8-10 mini Manhattans or 4-5 regular size drinks!
Manhattans with a Twist
8 oz of Bourbon or Rye
2 1/2 oz of Sweet Vermouth
5-8 dashes of Angstura Bitters (add to taste, but we like our Manhattans on the herby side)
8-10 Black Cherries in syrup or Maraschino Cherries
2 good size twists of lemon peel
Fill a pitcher with ice and add the bourbon, sweet vermouth, bitters and lemon peel.  Stir vigorously until the outside of the pitcher is beaded with sweat and is ice cold to the touch.  Place a cherry (don't shake off the juice.  A little extra syrup is good) at the bottom of each glass, strain the ice as you pour the cocktail.  Serve immediately!
*Tip: You can prep this cocktail an hour before serving by pouring the ingredients into the pitcher, but WAIT to add the ice.  Prepare your glasses on a tray and place a cherry at the bottom of each glass.  When you're ready to serve, add the ice and follow the rest of the instructions above.
Enjoy!
|
Print