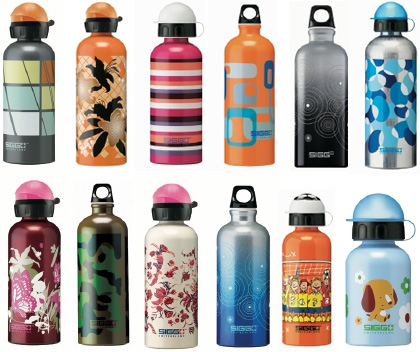 My boys' school has been doing a great job of going "green".  But, as any mom knows, becoming more environmentally friendly can COST you a lot of green up front – even though in the long run it saves you money – and the environment, health and all those things you cannot put a price tag on! At our school, you are not allowed to send any disposible things like plastic water bottles, Ziploc Bags or paper napkins.  Plus, as always, I am trying to come up with ways to feed my family organic for less. So here are a few deals I have found on some of my boys' favorite lunch items!
My boys went to the store with me and each picked out their own SIGG reusable water bottle – and of course I got one, too!  I pack one in their lunch boxes every day. I keep one for myself in the car, too (good reminder to drink some water in addition to my massive coffee intake!) In fact, we love SIGG so much, it is this week's OCC giveaway!
We are giving away a SIGG WATER BOTTLE to one lucky reader – just leave a comment here and tell us what YOU are doing to reduce, reuse or recycle in YOUR household, and you just might win a SIGG .4L Kids Bottle – you choose the design (subject to availability)!
Get 10% Off a Case at WH!
You won't be surprised to know that organic kids snacks usually cost more than processed crap.  So when I find a snack my kids really like, I use the 10% off a case discount that Whole Foods offers!  They will give you a discount on a case of almost anything – not just wine!  When I head for pricier items like seaweed, I always make sure to buy a case at once, instead of little packets.
This month, Whole Foods has a bunch of coupons on some of my kids' favorite lunch items – be sure to check out their coupons for:
50 cents off any ONE Annie's Organic Fruit Bites
$1.00 of any bag of Terra Chips (4 oz or larger)
50 cents off any one Icelandic Dairies SKYR yogurt
Plus I found these other deals from Mambo Sprouts on the boys favorites:
75 cents of Rudi's Organic Bread – our family lives on this stuff!  The Colorado Cracked Wheat is our favorite.
$1.00 off a 4-pack of Wallaby Organic Wallababy or Joey Yogurt – my 3 year old is obsessed with the Grape!
|
Print