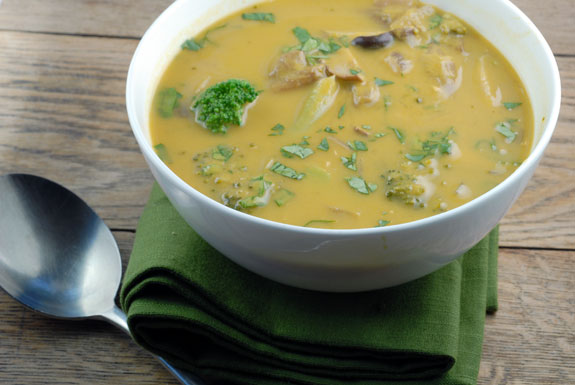 Yay – it's soup season!  Even here in LA, I still love making a good winter soup and pretending I am back in the Midwest hearing leaves crunch on the ground.  Besides the delish factor, soups are one of the most Fab & Fru foods out there – not only are they a cost effective way to feed a crowd, but soups tend to freeze well so you can avoid waste associated with more perishable meals.  Win – win, right?
And of course there is nothing like a truly home made soup, but if you are short on time, we love doctoring up store bought brands.  And not just any store bought brands – if you are like us, you definitely don't want MSG and icky preservatives in your soups – read some of those labels and you are sure to lose your appetite!  Instead, we are big fans of some of the store bought Organic and Natural brands of soups, like Pacific Natural, Imagine and Fig Foods – all of which currently have coupons available!  So check out these healthy coupons:
$1.00 off any 2 Pacific Natural Foods Organic Soups
$1.00 off any 3 Fig Foods Soups
We checked out their websites, and these brands all had great ideas for doctoring up their soups to make them into something even more special, so be sure to check out Imagine, Pacific Natural and Fig Food for some mouthwatering ideas of how to sass up their soups.
Speaking of sass, what are YOUR favorite tricks for doctoring up store bought soup?? Let us know and we'll pick one lucky winner to receive a $25 Whole Foods gift card!
|
Print