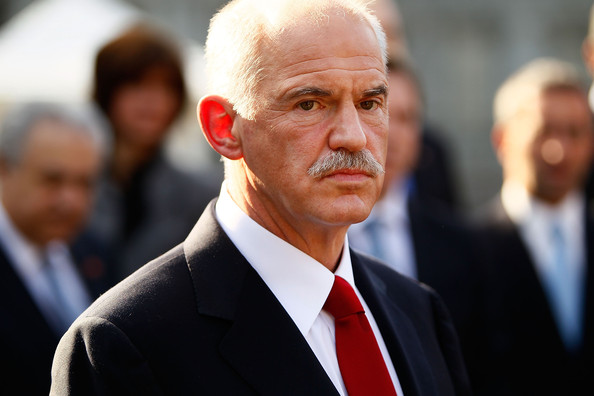 So much happened in the world this week, which means there is a lot to catch up on before your cocktail parties this weekend!
Greece is The Word….Again
Wouldn't you know, Greece is topping headlines once again this week.  For starters, you should know that the name of the Prime Minister of Greece is George Papandreou – though by the time you read this he may no longer be the PM.  He is facing a no-confidence vote today, for, among other reasons, his (mis) handling of the Greek Debt Crisis.
Cannes You Feel It?
Sure, your latest work meeting might have been in a windowless conference room in the ex-burbs, but luckily for the G20 (Group of 20) World leaders, their meeting was in Cannes, France.  The good news?  It looks like an international group of leaders all agrees!  The bad news? They all agree that things look pretty crappy for the world economy.  But apparently not so bad that they couldn't hold their conference in Cannes.
Cor-zine of the Times
We're guessing Jon Corzine would  rather be known as the former CEO of Goldman Sachs or as the former Governor of New Jersey. But now he holds the dubious distinction of being the former CEO of failed financial firm MF Global.  MF has filed for bankruptcy – though these days, who hasn't?  The more troubling news – apparently over $600 million of it's clients money is…missing. Makes me feel a little better about misplacing my keys every morning.
The Demise of Dippin' Dots
In other bankruptcy news, are Dippin' Dots – the self proclaimed "Ice Cream of the Future"  - going to become a thing of the past? The maker of high-tech, cryogenically frozen beads of ice cream (how did we live before it?)  filed for bankruptcy protection, but tell your wee ones not to worry – there is still hope they can work out a restructuring plan.  I am also hoping they come up with a plan to make their product taste better.  Usually I am delighted when my kids give me the remnants of their ice cream to eat, but even I pass on this one.
AND HOW WAS YOUR WEEK?
|
Print