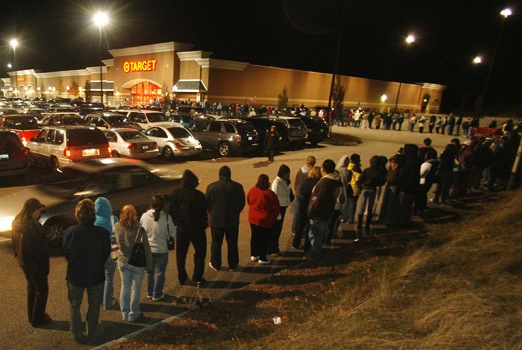 From Talking Turkey to Hunger in America
Well, we hope you all had a very Fabulous – and Frugal – Thanksgiving!  But is it really Black Friday already?  I don't know about you, but I haven't even put away my Halloween decorations yet.  Anyway, the news doesn't rest just because it's a holiday week, so here are the highlights of what went down Thanksgiving Week 2011…
Debt Committee: Talk About A Turkey 
The congressional "Super Committee" charged with coming up with a deficit reduction compromise… didn't.  In the immortal words of Rick Perry, "Oops." The failure to reach an agreement was disappointing but not really unexpected.  But on a positive note, there was something sort of poetic about this committee's inability to compromise during Thanksgiving week – we're pretty sure it mimicked what was going on in millions of families across the nation yesterday.
Black Thursday 
Today of course is Black Friday, which this year actually started last night, on Thanksgiving itself.  A great idea if you want to make Black Friday crowds even rowdier than usual by having a bunch of inebriated shoppers going right from Thanksgiving dinner to Toys R Us…   Why didn't they think of it sooner?!
Arab Spring Continues
Even though we are well into Fall, the revolution of the Arab Spring continues.  This week, Ali Abdullah Saleh, the president of Yemen, became the fourth Arab leader to be forced out of power this year.
Meanwhile, In Egypt…
Unrest and deadly protests continue.  Just a week before the first parliamentary elections since the ousting of former President Hosni Mubarak, the entire military appointed cabinet resigned.  In a move sure to anger reformers, the old Prime Minister under Mubarak, Kamal Ganzouri, was renamed to his post – at least as an interim move.
Hunger In America 
According to the No Kid Hungry campaign, 17 million children in the U.S. are a risk of hunger – that is 1 in 4.  In this season of abundance, take a moment to think about what you could be doing to make this tragic headline a thing of the past.  There are so many agencies out there fighting to end food insecurity – both Mazon and No Kid Hungry are great places to start.
Enjoy Your Holiday Weekend!

|
Print