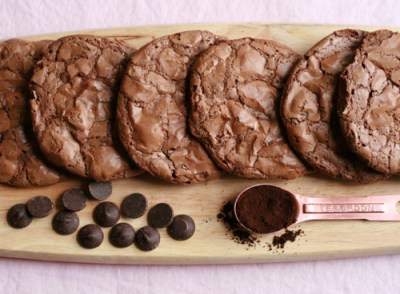 Ingredients
10 ounces semisweet or dark chocolate (chips or roughly chopped)
12 oz of semi sweet or dark chocolate chunks
2 tablespoons freshly ground espresso or dark roasted coffee
4 tablespoons unsalted butter
2/3 cup unbleached flour
1/2 teaspoon of baking powder
1/2 teaspoon sea salt
2 eggs
3/4 cup packed brown sugar
1 1/2 teaspoons pure vanilla extract
Directions
Preheat oven to 350 degrees.
Melt chocolate chips or chopped chocolate and butter over low flame on the stove until almost completely melted.  Stir constantly so not to burn.
In a mixing bowl, beat eggs, brown sugar, vanilla, and espresso on high speed until fluffy.  Reduce speed and blend in melted chocolate mixture.
Mix in dry ingredients until blended.  Stir in chocolate chunks.
Drop generous spoonfuls of the dough (like thick brownie batter) 2 inches apart onto baking sheets.  Bake for 12-15 minutes, until cookies are shiny and crackly and the centers are still soft.  Cool for a least 10 minutes on the cookie sheet before transferring to a cooling rack.  Enjoy!
|
Print