by Brandi Savitt – December 05, 2011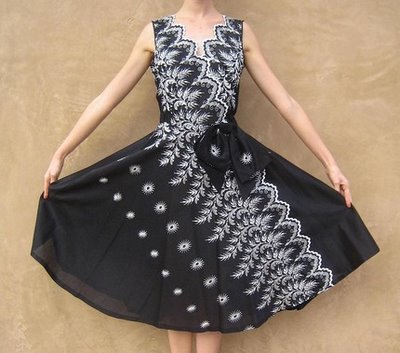 Light Up Your Wardrobe This Season
Looking for a way to dress up your holiday party look without spending your entire gift budget on clothes for yourself?  Well, supermodel and runway coach for the Miss Universe Organization, Lu Sierra has some Fab & Fru tips that will not only add a bit of glam to your winter wardrobe, her chic yet affordable suggestions will get heads turning in YOUR direction this holiday season!
Vintage Is Your Best Friend
While it's no secret that shopping at vintage stores for designer looks for less is a Fab & Fru must, Lu reminds us all that "shopping vintage is also a fashion diva's way to give back to Mother Earth".   It's the ultimate way to recycle while paying tribute to style through the ages! And like all of the best money saving tips, Lu wants you to get creative when putting together your holiday look.  While shopping at her favorite vintage shop, Stella Dallas, in Brooklyn, Lu found an adorable black dress for $30, and to add some extra holiday glam, she bought a fun crinoline skirt to wear underneath – for just $15 bucks!

Shop the Men's Department
That's right, Lu wants us ladies to hit the sales racks in the men's department to find some serious steals. Generally speaking, men's clothes simply cost less than women's designer looks, and the sales are to die for.  Lu was shopping for a white suit, and everything she liked at the department store was upwards of $1,600!  But then she walked into Zara's men's department, and found just what she was looking for for $175!
If you're a tall lady like Lu, and love the tailored look, men's clothes are a great fit.  The waist sits lower, the sleeves are typically longer, and the wider shoulder will definitely add some drama to your suited look while accentuating your waist.  One of Lu's signature looks is to tie a man's neck tie into a bow around her neck, and either wear something low cut (or nothing at all) underneath her suit jacket.  Super glamorous, yet super simple.
Lu insists that the men's department has something for women of all shapes, sizes and style.  Especially when buying button down shirts, Lu says that she has not spent more than $20-30 on a collared shirt in years!  Instead, she shops the men's sales racks.  A main element of men's sizing is the sleeve length, which mean's if you're on the shorter side,  you're sure to find a sleeve length that's right for you too.  Find a $20 or less shirt that fits you well, and if it's loose in the waist, bring it to your tailor who can take it in a bit to show off your curves for under just $10.  Who can beat a custom fit shirt for $30?
|
Print
Pages: 1 2