Cava
The Champagne of Spain, Cava is totally and delightfully affordable. Check out these Picks!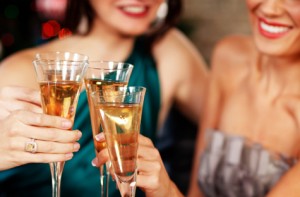 Smith & Vine loves German Gilabert's Cava Brut Native (in this case, German is a name – not the country..).  At $15 per bottle, this Spanish beauty is fun and light.

Domaine's ridiculously affordable top pick is — NV Mercat Cava, Penedes, Spain.  For $13 a bottle, it delivers a lot of bang
for the buck!  According to Jill, "It's a little toasty and creamy, has a touch of fruit but is still very dry – the Mercat is a great, traditional Spanish bubbly made in a crowd pleasing style!"
Produced in Italy, Prosecco is NOT made in the same way as Champagne, and doesn't pretend to be.  It's clean, refreshing, and well under $20 a bottle.  It's the perfect beverage for a New Year's brunch, as many Proseccos highlight citrus flavors.
Here are the TOP Picks!
The guys at Smith & Vine just love Vino Frizzante's Prosecco from Liguria Italy.  It has a fresh and delicate taste, and the tiny bubbles are deliciously elegant!

Jill loves the Drusian Prosecco.  At $15 a bottle this organic Prosecco is a dry rich bubbly with a flowery fragrance and an overall fruity flavor.

For $13 per bottle, Jill also recommends the delightful Sommariva Prosecco. (Plus, Sommariva is just fun to say, isn't it?)
Grower-Producers
If it simply must be Champagne, eschew the big brand names and instead go for boutique producers. The most familiar Champagne houses are often divisions of large multi-national conglomerates, with correspondingly huge marketing budgets. A high percentage of every bottle you buy is subsidizing the cost of the billboards, magazine ads, and television commercials that these companies produce.  Look for smaller producers who aren't forcing you to pay for their image — just for what's in the bottle. The tip-off? When you see the initials "RM" on a Champagne bottle (look very closely, it's in fine print!), it means that the wine is made by the same family who grows the grapes, and oversees the entire process. You'll be getting an artisan product, and you'll be supporting a family rather than a multinational corporation.
Top Affordable Champagne Pick!
Gaston Chiquet Brut Tradition – $50
May your New Year be filled with bubbles and blessings!
|
Print
Pages: 1 2