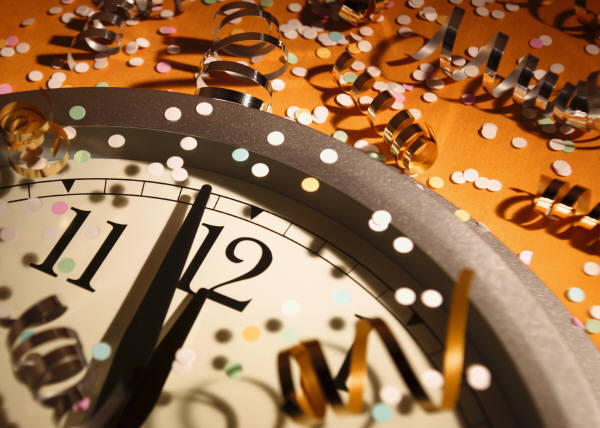 So Long 2011, Hello 2012!
Not only has another week gone by, but another year has gone by!  So in case you were at a loss for WHAT you were going to talk about at your New Year's Eve celebrations, we've got you covered!
Big Mac Attack
The Dow Jones Industrial Average had a wild ride this year.  As it turns out, McDonalds was the best performing stock on the Dow (up 31%) , while Bank of America was the worst (down 59%).  Which makes sense, given that many people are so broke all they can afford to eat is Mickey D's.  Or maybe they're just Lovin' It?
Cellin' Out
Speaking of Lovin' It – just when you thought you couldn't love Verizon anymore…  Guess what the wireless carrier has decided to do to make up for all those network outages in December?  That's right – add on a $2 "convenience" charge for one time phone and online bill payments.  Now that's the holiday spirit!
A Less Than Grand Finale
Apparently, movie ticket sales were the lowest they have been in 16 years!  Experts were saying this was due to a bad economy and expanding home entertainment options for consumers.  And though that may well be the case… any chance the the movies that came out this year were just not as good?
Syrian Uprisings Continue
On a serious note, anti-government activists in Syria are continuing to protest the government of President Bashar al-Assad – despite bloody attacks from government forces.  The huge story of 2011′s  "Arab Spring" continues right into the new year.  CNN has done a great job of reporting from the Middle East all year and getting reporters in to off-limits areas.  Please check them out for more on this ever expanding story.  Struggles in the Middle East may feel a world away, but as we all know by now, they have a direct impact to our safety and finances right here at home.
Looking Ahead to Next Year!
2012 has so many big stories continuing from 2011, it is already shaping up to be quite a year before it's even started.  From the Middle East uprisings to a Presidential election year here at home, it's sure to be a big year for news both in the U.S. and abroad – with big implications for your personal finances.  We wish all our readers a happy, safe, prosperous, and – of course – Fabulous & Frugal New Year!
|
Print