by Alexandra Pauline – January 4, 2012 

How to Recognize a Bad Boss
It's a brand new year so it's no surprise there are a lot people out there looking for that brand new job – and many more who have been looking for it since last year…
With the less than bustling job market, it can be tempting to take any job you can get, but there are a few things you can do to make sure desperation isn't flinging you into a really heinous work situation!  Job hunting comes with some big decision making, and here at Fab & Fru we've got some red flags to watch out for and make sure you can be a smart shopper in a suit!
Internet  Searching Is Not Always Working In Your Favor

Today, of course, many people look to the Internet to find that perfect position.  But just like any other aspect of the Internet, anyone can post anything, thus leaving a lot of room for spam and scams!
One of the first red flags your dream job listing can have is a light job description or simply a number or email to contact.  Charlotte Weeks, Co-Founder of marketmycareer.com said, "There should be a job description. If not, they may not actually be prepared to fill the position, and the candidate may not get all the important details on the job beforehand."
Assessing the Work Vibe

An important consideration is how the person who's interviewing you speaks to you.  Even if your interviewer is from HR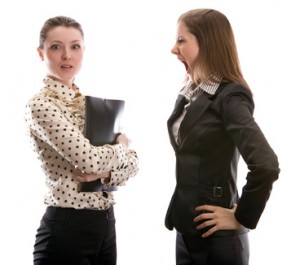 and won't be your direct report, they are a reflection on the company, and they set the tone.  Don't ever ignore the vibe you get.  If you are interviewing with a potential colleague or boss, and they are at all condescending, it's not because they're testing you – the odds are that attitude won't go away once you're on the job…
Pay Attention to Pronouns!
The experts also suggest to take note of the types of pronouns your interviewer uses – and how.  Performance Consultant John Brubaker says "If your interviewer uses the term "you" in communicating negative information (such as, "you will deal with a lot of ambiguity"), don't expect the boss to be a mentor…  If he or she uses "I" to describe the department's success, it may suggest they are not a team player…  If "we" is used in regards to a particular challenge the team or company faced, it may indicate that he or she deflects responsibility and places blame."  On a positive note, if used in the right way, "we" can also suggest they are looking for someone who knows how to collaborate and be a part of the team.
|
Print
Pages: 1 2