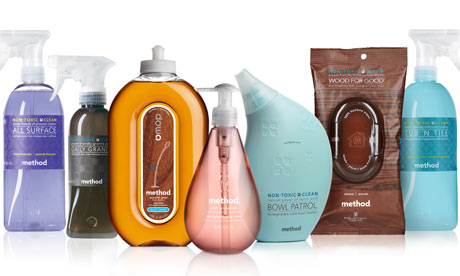 We're excited to see that Whole Foods is introducing it's "Eco-Scale" system -which will easily rate household products they sell to see which are the greenest!  By April of this year, the chain has vowed to have all its products rated and verified by a 3rd party – making it a whole lot easier to be greener.
Check out the following coupons on natural and non-toxic cleaning products:
From Whole Foods…
$1 off any One Method Item
$1 off  One 365 Everyday Value Laundry Product – either 80 ct. fabric softener sheets OR 5 lb. concentrated laundry detergent powder
*Our Fab & Fru Fave: Method Smarty Dishwasher Detergent Tablets 
Mrs. Meyers…

Is offering a whopping 60% off their remaining seasonal products - good while supplies last or until 1/29/11.   I don't know about you, but Gingerbread smells good to me any time of year!  Love that Mrs. Meyers products offer you a cleaning and aromatherapy product in one.
**Our Fab & Fru Fave: Mrs. Meyers Gingerbread Liquid Hand soap.
BioKleen…
This consistently top rated brand is offering many coupons, check out:
$2 off any TWO BioKleen LAUNDRY Products
$1 off any TWO BioKleen CLEANING Products
$1 off any ONE BioKleen KITCHEN Product
$1 off any ONE BioKleen Soyblends Cleanser
**Our Fab & Fru Fave: BioKleen BAC-OUT Stain & Odor Eliminator 
Naturally, It's Clean…
I've mentioned before that I LOVE the enzyme based brand "Naturally, It's Clean" – their floor cleaner is one of the best I've found.  Something else I found – major discounts on this brand at IHerb.com!  Many of their products are over 20% off, plus you get free shipping with orders over $20 — AND right now they are also offering an ADDITIONAL $5 off your order for new customers with coupon code BUY123.  We like IHerb for the low minimum to qualify for free shipping and be sure and check out their major discounts on Seventh Generation as well…
**Our Fab & Fru Fave: Naturally It's Clean Enzymatic Floor Cleaner
Seventh Generation…
Speaking of Seventh Generation, you can sign up on their site to receive coupons and special promotions sent right to you!
**Our Fab & Fru Fave: Seventh Generation Free & Clear Dish Liquid
And, of course, we always suggest looking in your own pantry first – you'll be amazed at just how much household cleaning you can do with old-fashioned vinegar and baking soda! 
|
Print