by Alexandra Pauline – January 11, 2012


Make Your Space Work For You
It's tax season, and there's no time like the present to get organized and turn your home office into a calm haven of peaceful function.  Here at Fab & Fru we've got some simple and creative ways to give you closet hoarders some new found hope…
Make Room In Small Spaces
If you're a city dweller who's idea of a home office is your iPad, your scattered bills and a cup of coffee, have no fear – you can still get organized even with the smallest of space.   Head to your local Target and pick up a discounted pack of shelves.   In less than an hour you can turn your desktop nook into the fully functioning "corner" office of your dreams!
New York City real estate broker Nick Jabour says he has his "MacBook in a desk drawer that's wired to a flat LCD panel on the wall.  I have a magnetic bulletin board that holds notes, pen cups and a stapler.  A shelf mounted above the desk holds my check ledgers, reference books, and other items."  If you're working with even less space, getting an accent basket and filling it with office supplies and files is a great way to turn your hallway table into a desk when you need it!
Small details like colorful matching storage boxes are not only a functional way to bring a calming sense of order to a home work area, they can also be decorative!  Use them as an accessible way to separate your paperclips, pushpins, stamps and post-its.  Another Fab & Fru way to create some stylish do-it-yourself storage is by turning old mason jars into micro-storage units.
Clutter Killing Cork

We love the idea of doing a FRU corkboard…with a FAB twist!  If your desk is against a wall, cork board is a great space optimizer – but it can be a bit drab to look at.  Our solution?  Frame it!  Find an inexpensive frame at an antique shop, or reincarnate one from a mirror or painting you already have.  Just remove the glass, cut the cork to fit, and slip it into the frame – you can even cover it in some fabric for an extra luxe look.   Suddenly, you have not only a piece of home decor, but a functional office accessory you will actually enjoy looking at!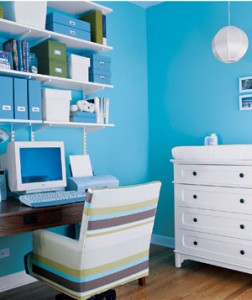 Double Duty
If you're work area also happens to be doubling as another space – synergy is key.  Many working moms opt to combine their office and nursery.  In this case, keep the color schemes the same, and go with a bold unifying accent piece.  Try a solid paint for the walls, and substitute a stuffy office chair with a stylish and sturdy club chair in a pattern – and don't forget the pillow.  Ample lumbar support is key for mitigating back pain!
|
Print
Pages: 1 2