by Alexandra Pauline – January 23, 2012


Your Big Day The Green Way
Planning a wedding is a costly, emotional and time consuming undertaking – often leaving little room for the idea of sustainability.  I mean, this is the one day where the entire focus is on you, right?  And with so much going on, it might not even cross your mind to think about the environment…  But if you're planning a wedding, going Green doesn't have to mean more work and more money.  In fact, by making your wedding a more sustainable event, not only will you make your big day even more memorable, you can save some serious cash!
Go Partially Paperless

While there's still something special about sending printed invitations for your actual wedding, save money and paper by sending digital invites for your save-the-date, engagement party, rehearsal dinner and shower.  Websites like Paperlesspost.com, Evite.com and Punchbowl.com have some elegantly festive Fab & Fru options so you can get the job done without chopping down a single tree – all with pricing packages that range from free to budget friendly!
Keep It Local – Even when Far from Home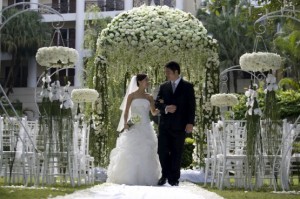 Even if you're not getting married in the town you live in, you can still make sustainable local choices that will help make your wedding one of a kind!  Wedding photographer Michelle Posey commented, "I saw a couple do a great job of putting on a sustainable wedding in 2010.  They had their wedding outdoors, made local food and wine choices, used flowers from friends' gardens instead of having them shipped in, and used a family wedding dress instead of buying a new one."
Eatwellguide.org makes finding caterers who specialize in using local ingredients as simple as just typing in your zip code.   Not only is going local better for the environment, and your taste buds – it may also save you on the cost of food.  The less your food has to travel, the fewer hands will be looking to cash in on its journey!
Take Out The Good China

Big weddings often lead to people cutting corners when it comes to using china and flatware.  Setting the tables with proper place settings not only helps to make your day feel more special, it will also allow you will avoid the extra waste that comes with using paper and plastic products …no matter how high quality.  The caterer or the venue may have to wash a ton of dishes that night, but it will be worth it in the end!
|
Print
Pages: 1 2