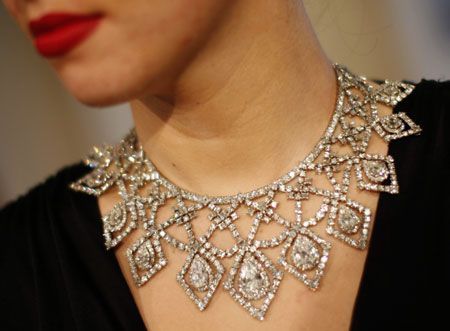 Our friend Janey threw a fnatastic New Year's Eve party.  Everyone gussied up, and it was a super fun, festive evening.  Janey, ever the hostess with the mostess, was wearing a fabulous strapless cocktail dress, complete with a simple, sparkling necklace to top it off.  Our friend Lynn walked in, immediately told Janey how great she looked and then zoned in on her glittering necklace.  Without skipping a beat, she then blurted out "Wow!  Those diamonds aren't real, are they?!"
A little taken aback, Janey told her the necklace actually wasn't 'real', and that she had gotten it on sale at Banana Republic the week before.  Personally, we were in awe of her very Fab & Fru piece of jewelry – which totally looked liked a real diamonds to us…  But Janey told us later she was really annoyed that Lynn asked her – in front of her guests – if her rocks were fake.
Is is a faux pas to ask about a friends jewels?  Or was Janey being a little oversensitive?  Tell us what you think!
|
Print