by Stephanie Berenbaum – January 26, 2012

One Night Only
Last weekend,  I was at a tres chic friend's bday party, and the Birthday Girl was wearing a fantastic cocktail dress.  Believe me, it looked very fabulous – and not at all frugal.  So, of course, I had to ask where she got this piece of couture.  My fashionable friend immediately replied, "Rent the Runway!"  Though we've mentioned this online service before, I myself wasn't a member.  But I was so impressed with my friend's look, that I went directly home from the party, signed up and discovered a whole world of Fab & Fru fashion right at my fingertips!  
What is Rent the Runway?
Rent the Runway lets you rent (you probably figured that out) designer fashion for a fraction of what it would cost you to buy it.  We mean really a fraction – like up to 90% less.  YUM!  And while I have visited actual stores that rent fashion, I have never used an online service and was curious…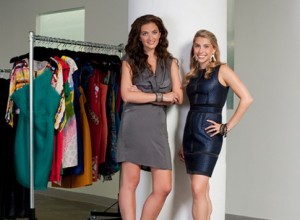 How It Works….
I was a little skeptical about renting clothing online – until I read the details.  Here's the scoop – at Rent the Runway,  you work with fit specialists to determine the best dress for you — and they even send you a 2nd size for free!  What sealed the deal for me is – if  it doesn't fit – you don't pay (less the cost of shipping)!  The site boasts a 99% success rate, which is WAY higher than my typical success rate when shopping for dresses live.  Another advantage – you can rent your WHOLE look from them – including Spanx, handbags and jewelry!
Fashion Emergency!
I admit it, I am a procrastinator.  Whether you put things off 'til the last minute like I do – or you get a fabulous last minute invitation to the Oscars – you are in luck.  Rent the Runway ships same day in NYC and overnight to the rest of nation to help you avert a fashion emergency!
|
Print
Pages: 1 2