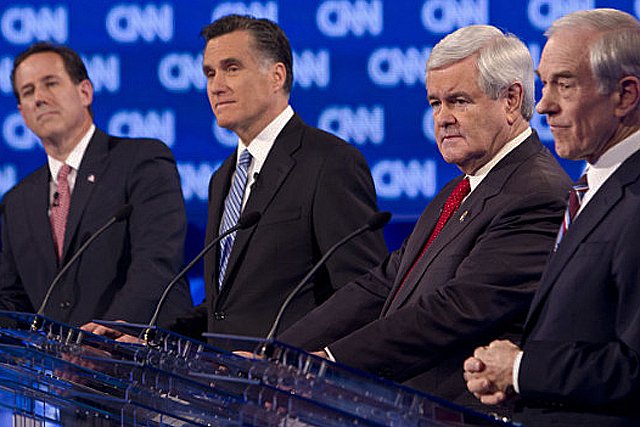 From Overtime to Over the Moon…
How has another week really already flown by?  Is Newt Gingrich really going to colonize the moon?  That's right – it's the Fab & Fru Week in Review!
Baby, You're A Rich Man 
While I am personally not a Romney supporter, I have always been baffled by why his success as a businessman has been widely portrayed as a liability.  That's why it was rather refreshing last night to hear him stand up and defend his dollars (we're thinking his new debate coach was a good hire).  When Romney declared he had worked hard to earn his money, and that his success should be seen as an asset and not a liability – well, it was one of the few things said at all last night that actually seemed to make sense – no matter what your political affiliation may be.
New Meaning to the term "Resident Alien"
Speaking of things the Republican candidates are chatting about, let's turn to the issue of the 51st state. I am speaking, of course, about the moon.  That's because Newt Gingrich unveiled an ambitious program to colonize the moon – thereby giving residents (should they be able to survive in space) a shot at declaring statehood, once their numbers reach 13,000.  Should Newt's bid for president prove unsuccessful, we're sure there are plenty of people who would whole heartedly support his candidacy for Governor of our newest state.
The Low of the Low – Interest Rates
The Federal Reserve announced on Wednesday that in the continual effort to spur economic growth, they are planning to keep short-term interest rates near zero until late 2014.  This is great news for house hunters, but the jury is still out if this tactic will actually help the economy or simply continue to reward borrowers and punishing savers.  The fact remains, educating yourself about money, and living within your means – is the key to staying out of a financial mess – no matter what the government does to "help"!
Overtime Pay For Emails?
Brazil introduced a new law requiring companies to pay overtime when employees respond to work calls or emails after hours. Which brings to mind the recent failed bid of the San Diego police department to get overtime pay for the time it takes them to put their uniforms on.  We're thinking some of the supporters of these overtime plans are perfect candidates for Gingrich's new moon colony, though we are unsure how the space/time continuum might change overtime calculations…
Dollars to Fight Disease
Bill Gates – yes, one of the few Americans even richer than Mitt Romney – continues to put his wealth to great use.  He and his wife, Melinda, announced they are donating even more money – $750 Million – to the Global Fund to Fight AIDS, Tuberculosis and Malaria.  That's what we call Fabulous!
And How Was Your Week?
|
Print