The OMG Omelet Muffin!
There's nothing better than sharing a delicious Sunday brunch with family or friends.  So, when Brandi's sister-in-law Megan forwarded us a recipe for "Omelet Muffins" – from the fabulous blog Quirky Cookery – it quickly dawned on us this has to be one of the most Fab & Fru recipes we've seen to date!
Here's the deal: make personal mini omelets in an old muffin tin – you can eat them on the spot, make them in advance, or freeze 'em for next time…

Not only are Omelet Muffins a very elegant dish to serve, they are also totally frugal.  Like a traditional omelet, you can throw in whatever leftover ingredients you have on hand – a great way to make sure you're not wasting valuable produce and meats.  The recipe makes 12 muffins, so there's room to customize each one to please everyone in the family.  And because they freeze perfectly, these bad boys are also an easy hot and homemade breakfast to serve your kids any day of the week!
Omelet Muffin Recipe by Jessi from  Quirky Cookery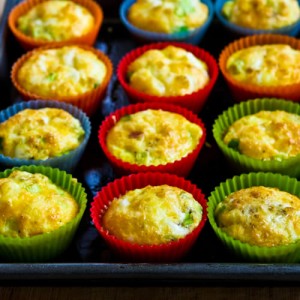 A dozen eggs
2 – 4 Tbs. milk, half and half, etc (whatever you have is fine…it just stretches the eggs a bit further)
1 1/2 – 2 cups "fillings" (sausage, ham, green onions, peppers, tomatoes, kale….again, use what you have on hand)
1 1/2 – 2 cups cheese of choice
Season to taste
Preheat your oven to 375F.  Grease a regular 12 cup muffin tin muffin pan with butter, spray with nonstick spray, or use liners.
Chop all your fillings and place a bit of each, including the cheese, into the bottom of the cups. Fill them about 2/3-3/4 of the way full. Beat eggs with the milk (you can skip the milk if you prefer not to mix down your eggs), and season to your liking. Pour egg mixture into each cup, level with the pan edge.
Bake 25-30 minutes. Muffins will puff up a little bit and brown around the edges. Cool before removing from muffin tin.
*Jessi's Ingredient Tip: If you don't have fresh veggies on hand, use canned diced tomatoes that have spicy onions and peppers already in them. Drain the liquid completely so it doesn't make your muffins soggy. Adding these gives the muffins a salsa-y kick.
|
Print
Pages: 1 2