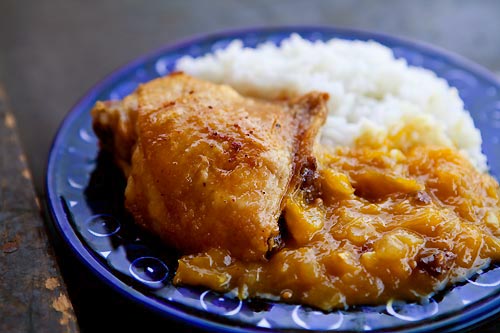 I noticed that Whole Foods is offering a coupon for Nature's Rancher frozen chicken parts – $1.00 off a bag – which of course makes me want to make one of the easiest, most elegant – and of course frugal – recipes I know.  I am speaking of course of Mango Chutney Chicken!  I love this Fab & Fru dish – it's different and looks like it costs way more than it does.  Also perfect for company or just family dinner, and kids love it because it's sweet!
To give your meal more Fab & Fru flair, we suggest buying some of those delightful fennel candies you get at the end of meals in Indian restaurants.  They are so refreshing and it is a total treat that you guests are probably not used to having.  Plus, there are a ton to choose from on Amazon prime.
All you need to do is:
Use coupon to buy bag of Nature's Rancher frozen chicken parts – I like thighs with chutney but use whatever you'd like.
Buy the Mango Chutney of your choice (I like the ones at Whole Foods – made WITHOUT high fructose corn syrup!)
Dijon Mustard
You just mix Chutney and Mustard together (proportion according to your taste) and pour over chicken parts and bake at 350 degrees until done.
Seriously, that's it.  Enjoy!
|
Print