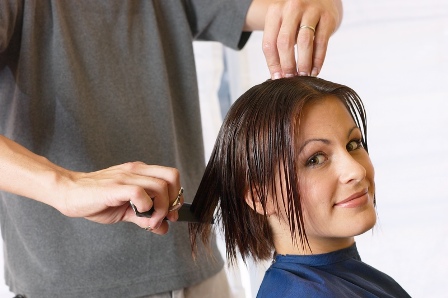 A few days ago Bobbi went to the salon in the mood for a change…  Armed with a magazine picture of the hairstyle she was going for, she presented her idea to her long term favorite stylist, Martin.  Martin studied her face in the mirror while he moved strands of her hair around like a sculpture.  Finally, he began his mastery.  Within minutes, Bobbi went from long flowing waves to a shaggy mod do.
After Martin was done styling her hair, everyone oohed and aahed – that is everyone except Bobbi.  It wasn't exactly what she had hoped for.  Maybe it was still a little too long?  Maybe she just wasn't used to it yet?  Martin told her he loved it and not to worry.  It was a really big change after all, and once she styled it herself, she would really be able to tell if she liked it or not.
After a couple of days of playing around, Bobbi grew to really like her new cut, but she still felt it was a little too long.  She was with her friend Renee on the way to lunch when she popped in to see Martin.  After all, if you don't like your haircut, you have a few days to go back for a little tweak, right?
Martin totally understood Bobbi's concern so he clipped and trimmed, and in five minute she absolutely loved her hair!  She hugged him, kissed him on the cheek, and Bobbi and Renee went on their merry way.  However, as soon as they walked out of the salon, Renee yelled at Bobbi for not tipping Martin for tweaking her cut.  And Bobbi replied " I tipped him well two days ago for a $125 haircut that wasn't what I wanted.  Why would I double tip him?"
What would you do?  Does Martin deserve another tip?  Or was making sure his client was happy part of the original price of the cut?  Tell us what you think!
|
Print