by Alexandra Pauline – April 9, 2012

Promote Yourself to the Top
If you're lucky enough to be working in a field that you love, and you want that promotion, the best way to make sure you're not passed over is by making yourself STAND OUT as an invaluable employee.  Fab & Fru is here to help you be your own marketing team, for the best product you have: YOURSELF!
Brand, Value, Rapport
The first step to becoming a star employee is branding – establish who you are as an employee, and where you want to go in the company.  Decide how you're hoping to grow beyond your current position, envision it and assert that image – with graceful confidence – to your superiors and colleagues.  Establish your value by formulating what makes you indispensable – master that talent and you'll surely be noticed.  Focus on building your value by respecting everyone – at all levels – by getting to know a little more about them.  Fostering strong relationships with your clients, boss and support staff will lead them all to invest in you now and in the future.
Me First
A great way to get noticed is to be first!  This means being the first to the office, the first to meetings and doing things without being asked.  Initiative has always been the best way to get ahead, so do your research!  Find out what projects your boss is interested in working on and be the first to present relevant information.  Your colleagues will appreciate the help, and you'll seem extra interested in the company's TIMELY progress!  Problem solving and going beyond what's expected of you is the BEST way to become indispensable.
Become a Reference Desk
In addition to keeping yourself looking the part – make sure your desk does too.  Look savvy by keeping a bookshelf behind your desk, and stock it with books pertaining to your field.  This act is NOT just for show.  Being versed in the latest trends pertaining to your business is an excellent conversation starter to help you build rapport with your boss, while showing your commitment to moving up in your field.  This readiness makes you look like an employee who really knows, and is INTERESTED in what she does – and if someone does have a question about something, you will be the go-to-girl in the department!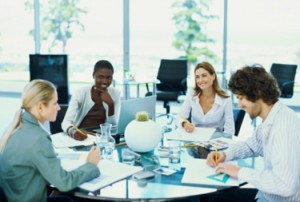 Speak Up
Don't be a wallflower in you next meeting – stand out by speaking up!  If a problem is presented, offer a solution versus inciting an argument.  This also allows you to get feedback on ideas you may have regarding a certain project you want to be team leader on, or an area that happens to be your specialty.  Show that you're giving thought to the issues that the company is facing, and highlight your talent AND dedication!
|
Print
Pages: 1 2