by Lisa Moore – April 23, 2012


The Magic of Makeup
Thinking about plastic surgery?  You're not alone.  13.8 million plastic surgeries were performed in 2011.  $12.4 billion dollars went into those surgeries – that's $1.80 for each person on Earth!
As far as some of the most popular procedures go, 5.7 million Botox treatments were performed last year – botox cost ranges from $120 and $400 per treatment.  Nose jobs cost between $3,000 and $15,000, collagen injections run anywhere from $300 up to $5,000, and the 119,000 facelifts performed in 2011 set people back between $6,000 and $15,000 each!
Before dropping big bucks, check out these top tips for your eyes, lips and nose to help keep you looking young – while keeping your money in the bank! 
EYES: Lavish Lashes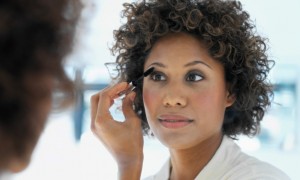 As we age, our eyelashes often thin out.  Investing just a few bucks in false lash PIECES will give you an eye lift for less!  Forget what you think of the thick falsies of the past, today's lashes are subtle fillers that give a natural, lush look, just where you need it.
For a little more pow, follow up with your favorite mascara, and then give your lashes a curl.  Good curlers start at $20, and curling will make your eyes look less saggy for a lot less than a trip to the operating room!
|
Print
Pages: 1 2