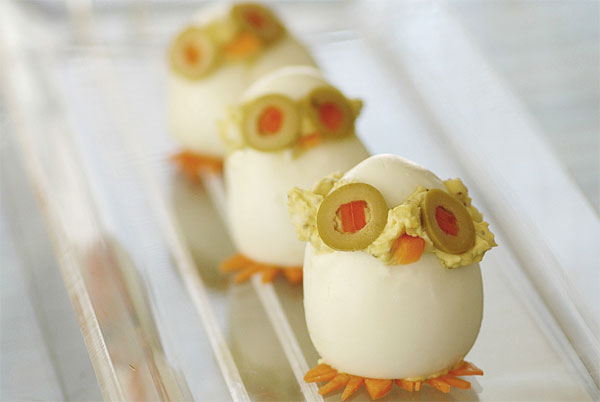 Fab & Fru Holiday Yum
With Easter coming up on Sunday, it's time to get creative and make some delicious snacks that will make your table festive, and WOW your guests' taste buds!  Here are our favorite picks for making this holiday fun & yum – on a frugal budget…
Lollipop Chick & Bunny Planters
You know we are obsessed with Yummy Earth Organic Candy – we keep their treats on hand all year round.  Their products are full of great taste – and NOT full of icky stuff like chemicals and corn syrup.  And our friends at Yummy Earth came up with this very Fab & Fru Centerpiece for your Easter gathering – we love it because not only is it a decoration – it is also part of dessert!  Check out this week's Organic Coupon Corner for deals on Yummy Earth Organic Candy, and then decorate away!  Besides the lollies, all you really need is some construction paper, and an old cup or planter. This is also a great idea to keep kids busy if you have a little craft table set up.  Or -if you don't want the chaos, just do it yourself in advance!
Dark Chocolate Bird Nests

Last year, Carol Ramos from the blog The Pastry Chef's Baking, published this adorable sweet and salty recipe from "A Year in Chocolate" by Alice Medrich – and it instantly became a Fab & Fru favorite.  Making these 3 ingredient Easter delights does takes a little time, but believe us – they're totally worth it!
3 ounces semisweet or bittersweet chocolate (quality dark chocolate is totally worth the splurge here!)
3 cups or more thin pretzel sticks, salted or unsalted (break them up so they are different lengths)
1 bag of candy coated Cadbury Chocolate Eggs (you can also use Jordan Almonds too)

Size bowl or box of your choosing, lined with plastic wrap for a large nest.  Use sheets of wax paper for smaller nests.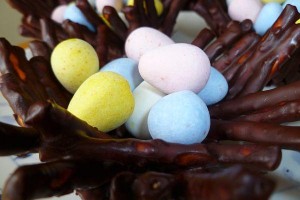 Melt the chocolate in the top of a double boiler over barely simmering water. Cool to lukewarm. In a medium bowl, pour most of the chocolate over the pretzels. Use a rubber spatula to turn the pretzels gently in the chocolate until they are lightly coated, adding as much as the rest of the chocolate as necessary. It's okay if some of the pretzel shows through the chocolate.
For a large basket or nest, scrape the pretzels into the lined bowl or box. Arrange the sticky pretzels against the sides of the container to resemble a nest. Shape small nests or wreaths on sheets of wax paper.
Refrigerate to set the chocolate. To unmold the large basket, lift the plastic liner from the container and peel it away from the pretzels. Fill each nest with candy coated Cadbury Chocolate eggs .  Display, eat and enjoy!
|
Print
Pages: 1 2