by Liz Bronson – April 19, 2012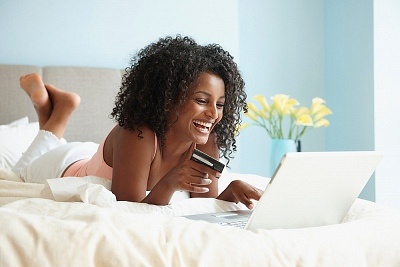 Shop & Save With Ebates
Don't you just love opening the mail and finding a big fat check?  If your answer is, "Nope!"  then this probably isn't the article for you.  For everyone else,  let me introduce you to my best online shopping friend - www.ebates.com.  If you play it right, Ebates will save you money each time you shop online, and then send you cash back four times a year for the online shopping you're doing anyway.
Sharing the Commission
Sound too good to be true?  It's not.  Ebates is a shopping portal for over 1,500 stores.  Instead of keeping all of the commission they make from the stores when you shop, they give a portion back to their customers!
Easy Money 
Thank goodness, Ebates is user friendly.  All you need to do is log into Ebates, and then choose whichever store you want to shop at – Target (3%), drugstore.com (6%), Macys (3%), Ace Hardware (4%), TurboTax (8%) and even places you wouldn't think of like Groupon (3%) or Omaha Steaks (3.5%) – and Ebates will send you to the site of your choice.  You shop as usual, and voila, big fat checks come your way.
Cracking the Code
Ebates also has coupon codes for the stores you are shopping at, so you can know if you're going to get free shipping, or 10% on top of your cash back.  Yes, it's a one-stop bargain shop.
Discover New Sites
I've discovered numerous new stores for bargain hunting on Ebates.  I used to be a Zappos fan, but since joining Ebates, I've discovered www.shoes.com.  Shoes.com has an 8% cash back deal plus no shipping and no tax.  I'm in heaven.  And if I can't find the shoes I want there, I can try Piperlime (5%), Nordstrom (3%), Macys, Bloomindales (3%) or Saks (3%).  Some stores' cash back amounts change frequently, so you can shop when they're high and get back even more, - I've gotten Nordstrom at 5% and Old Navy up to 12%!
Save at Smaller Sites Too
Even when stores have smaller discounts, like www.diapers.com at 1%, the cash can really add up.  I probably spent $800 at diapers.com before I discovered Ebates (2 kids 23 months apart with a husband on the road 80% of the time = a lot of online shopping).  That's $8 more bucks that I could have added to my Big Fat Check, or in my Paypal account, or donated to charity.
More Money
Bottom line, whether it's a ceiling fan or a wedding dress, toys or toothbrushes, there is money to be saved by starting your online strategic shopping spree at Ebates.
For more from guest writer Liz Bronson, be sure to check out her website Weekday Solo Mommy! We have so many friends whose husbands travel during the week for work, and Liz's site is a great resource for those of you dealing with being a solo mommy during the week! 
|
Print