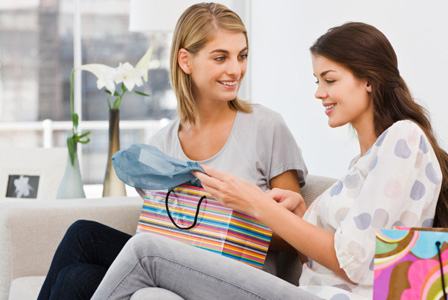 Last month, Melanie's neighbor, Alexis, gave birth to a beautiful baby boy.  Having just had her first son a few months prior, Melanie decided to buy Alexis her favorite baby sling that she couldn't imagine any on-the-go New York City mom living without.   She picked out a sling made from a beautiful, organic, robin's egg blue fabric, slipped it into a bright green gift bag and buzzed Alexis door.
The bleary eyed Alexis was thrilled to see another new mom, and invited Melanie in for tea.  Mel handed Alexis the gift, stating what a godsend the contents had been to her the past few months.  But when Alexis opened the package, she exclaimed – "I was afraid this is what you got me.  I've seen you walking the down the halls with Calvin all swaddled and happy.  I love it, but my sister already got me the exact same sling.  I really don't think I need two but thank you for thinking of us."  And with that, Alexis handed the gift back to Melanie.
In a bit taken back, Melanie didn't really know what to say "…I'm so sorry.  I guess I should have checked your registry."  Of course, Alexis told Mel not to give it a second thought.  Awkwardly, Melanie changed the topic to breast feeding, gulped the last of her tea and said that she needed to go relieve her husband from baby duty.
Now in a quandary, Melanie doesn't know what to do next.  Should she return the sling and buy Alexis something else, or just forget about getting her another baby gift all together?  Was Alexis wrong to be honest and not accept the gift, or was she just trying to be thoughtful and save Melanie some cash on a gift that would never be used.  Tell us what you think!
|
Print