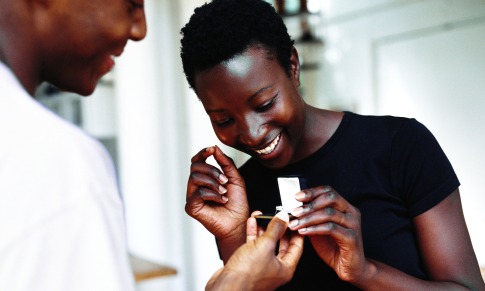 Our friend Marci just got engaged to her adorable fella, Joe.  Marci certainly isn't the bridezilla type, but like most of us, she had pretty specific ideas of what kind of engagement ring she wanted.  Rather than the classic solitaire diamond ring, she expressed to Joe how all she ever wanted was a diamond "eternity band" (gems all the way around) when they got engaged.
Fast forward to the big reveal.  After an idyllic picnic and stroll through the botanical gardens, Joe got down on one knee and proposed.  As he opened the lid of the ring box, the light glistened off what looked to be the eternity band of Marci's dreams.  That is, until he slipped the sparkler on her finger, and she realized the diamonds only went half way around – a sort of a semi eternity band…
Marci was so disappointed, but didn't want to ruin the moment.  She told Joe how much she loved the ring, and the two toasted their future together with a glass of bubbly.  But now, a week later, Marci's wondering if it's okay to say something to her future husband…
Is Marci acting petty and ungrateful if she suggests they exchange the ring for a full eternity band?  Or should she just learn to be happy with the ring Joe chose?  Would you speak up in this situation?  Tell us what you think!
|
Print