by Stephanie Berenbaum – May 9th, 2012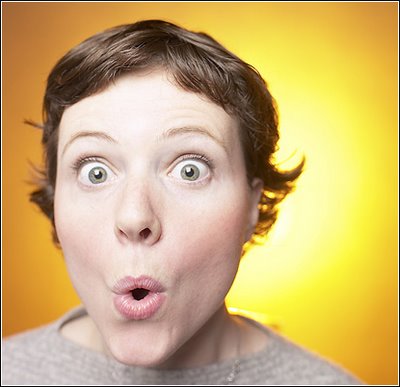 The Stealth Chic Of An Old Standby
Ok, let's face it. You probably never thought Land's End was cool, but that's about to change.  That's right: we're talking about the mail order retailer you probably last shopped at for a pea-coat in middle school.  And, shocking but true: Land's End is actually full of fantastic Fab & Fru Fashion Finds!
No, Really…
Just hear me out on this one.  A lot of brands put their hipness right out there for you to see.  Not Land's End – they go to great lengths to put their models in the worst colors and combinations.   They make you work to find the chic.  But if you dig deeper, we swear there is a treasure trove of affordable fashion just waiting to be found…even for YOU, the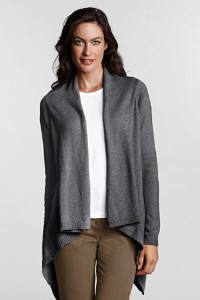 stylish, urban shopper!
Our discovery happened as most do – in the middle of the night surfing the internet.  Here is the 411 on finding Fab & Fru fashion at Land's End:
Look Beyond The Featured Color
Land's End will often feature a piece of clothing in a color you might not exactly want to wear.  Say, a color like "Pink Begonia".  If you are anything like us, grey is just about one of the brightest day to day colors you wear.   The secret is that Land's End has many pieces in simple, classic shapes that actually look modern in a black or grey.  You just need to take a minute and scroll to hit fashion gold!  For example….
Dress(es) For Success
We've been looking for dresses to wear to work, and never thought we'd find anything sleek at Land's End.  The first key is not to get put off by the sea of florals and plaids.  So we channeled Agatha Christie and discovered some Fab picks that look like they came from J. Crew or Banana Republic – but for $50 or $60 bucks! One of our favorites is the Ponte Cowlneck Dress, shown here – for only $59.99!
Off Season Shopping Opportunity -
Just like we tell you to buy air conditioners in winter, we're telling you to Buy Your Down Coats Now!  Off-season shopping can save you a bundle.  Enter Land's End – known for their quality outerwear.  Again, they are tricky, and they try to throw you off with a color you might not normally buy.  For example, they feature the magenta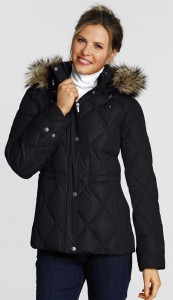 Diamond Down Coat – and I don't even look twice.  But take a minute to scroll and it turns out they also have it in simple black (featured here)- and for $65 you are a rock star! Tell your friends it's Prada – they'll never know the difference.  Or if you want to be even cooler tell them "Land's End" but say it like you mean it.
Are You Down With NQP?
Think Land's End can't hold any more surprises for you?  Our fave Fab & Fru find is the Not Quite Perfect Department – those in the know call it "NQP".  These clothes are slightly imperfect – in most cases it is nothing you would never notice! The best part – even the NQP items are all FULLY RETURNABLE – meaning you won't waste money chancing it on final sale items.  Plus they've got a huge selection of massively marked down kids coats!
Even in a crap economy, we feel like shopping just got fun again!
|
Print