* A slightly altered take on Martha Stewart's version of Joe Stone Crab Restaurant's recipe.
* Makes about 16 bars
Ingredients
Graham Cracker Crust
1 cup plus 2 1/2 tablespoons finely ground graham cracker crumbs
1/3 cup sugar
5-6 tablespoons unsalted butter, melted
1/4 cup of unsweetened shredded coconut
The Filling
3 large egg yolks
2 teaspoons finely grated lime zest
2/3 cup fresh Key lime juice (about 23 Key limes total)
1 can sweetened condensed milk (14 ounces)
1/4 cup heavy cream
Directions
The Crust

 Preheat oven to 350 degrees. Stir together graham cracker crumbs, sugar, butter and coconut in a small bowl.  Press evenly onto bottom of an 8-inch square glass baking dish. Bake until dry and golden brown (about 10 minutes). Let cool completely.  And be sure to leave oven on…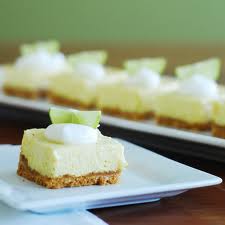 The Filling
Whisk egg yolks and 1 1/2 tsp of the lime zest in the bowl with an electric mixer on high speed until very thick (about 5 minutes). Reduce speed to medium and add the condensed milk slowly.  Raise speed back to high and mix until thick  (about 3 minutes). Reduce speed to low and add lime juice until mixed.
Spread filling evenly over crust with a spatula. Bake for 5 minutes and then rotate the dish and bake about another 5 minutes or until the filling is just set. Let cool completely and refrigerate at least 4 hours before cutting into squares. Cut into 2-by-2-inch bars.
Whip Cream Garnish
Whisk the cream in the electric mixer at high speed until the stiff peaks form. Then stir in a 1/2-1 tsp of lime zest.  Garnish each bar with a small dollop of whipped cream & serve!  -Keep the bars chilled before and after serving…
|
Print