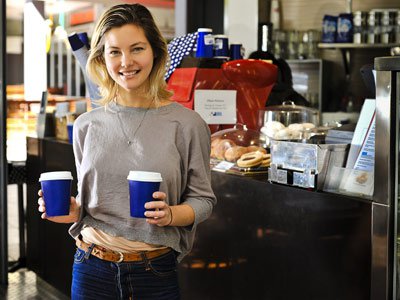 For years, Julianne has gotten her morning coffee from this adorable European style cafe around the corner from her office.  She's friendly with the owner, and all the baristas know her by name.  The one problem… the cafe doesn't offer coffee cards for their regulars, and they never reward their patrons with anything on the house.
Mind you, Julianne has never thought twice about any of this – that is until a new chain opened up across the street.  On a whim, she went into the new coffee house to try out their morning brew.  Not only did their coffee rival her favorite morning cup-o-joe, but it was 15 cents cheaper, and with a coffee card, every 10th cup was free.
A total loyalist by nature, Julianne felt horrible that she cheated on the cafe – and liked it. The last thing she would want is for them to go out of business as a result of the new competition.  For a few extra pennies, should Juliane continue to support her favorite shop, or should she save those pennies and leave it up to her friends to compete with the realities of good customer service and the nature of capitalism?
What would you do?  Tell us what you think!
|
Print