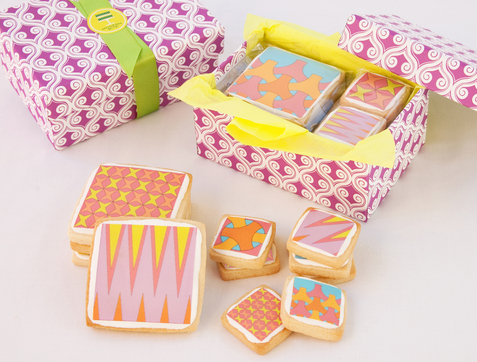 Fab & Fru-nique Mother's Day Presents
Don't have a lot of money to spend on mom?  So what!  That's no excuse for giving a boring Mother's Day Gift.  If you think having "only" $20 bucks to spend means a another Target gift card tucked in with your Hallmark Card – THINK AGAIN.  In honor of May being Small Business Month, here are our favorite Fab & Fru gift ideas – all under $50 and all from small – but FAB – businesses!
For The Gourmet Mom:  Modern Bite
You've never seen cookies like these before!  For $30 you can give mom the most fabulous, modern designed "tile" cookies (see main photo) – and they taste as good as they look!  These tres chic sweets not only come individually wrapped – they are also packaged in a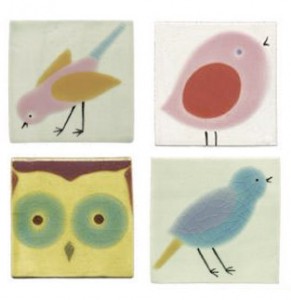 gorgeous gift box. Everyone we know who has tried Modern Bite is hooked …including us!
For The Artsy Mom:  Xenia Taler Picture Frames and Tiles
Speaking of tiles…We've written about our love for Xenia Taler handmade tiles before – and just in time for Mother's Day they announced they are having a 20% off sale on their handmade tile photo frames – which means their $62 frames are now down to just under $50!
For The Letter-Writing Lady: Monkey Business Stationary
We love the letterpress stationary offerings from Monkey Business Press.  For $40, AHAlife is currently offering an exclusive "Here's To You Mom!" boxed set of their 60s chic "bottles and glasses" blank notes with a huge added bonus – this hilarious "fill in the blank" card for you to give mom – which is a gift in itself…  If mom still insists on hand writing thank you notes (as we all should, by the way) this is the gift for her!
For The One-Of-A-Kind Mom:  Hooray For LaLa on Etsy
Leslie Robinson's ETSY store, "Hooray For LaLa" is truly a treasure trove of, well….treasures!  She has compiled a fantasy land of one-of-a kind vintage finds to fit any budget.  Our favorite for mom?  This delightful mosaic brooch – at only $16 mom will think you spent way more!
Fab & Fru salutes all the small businesses out there for providing us with BIG gift ideas! 
|
Print